GANTZ Memorabilia Giveaway Promotion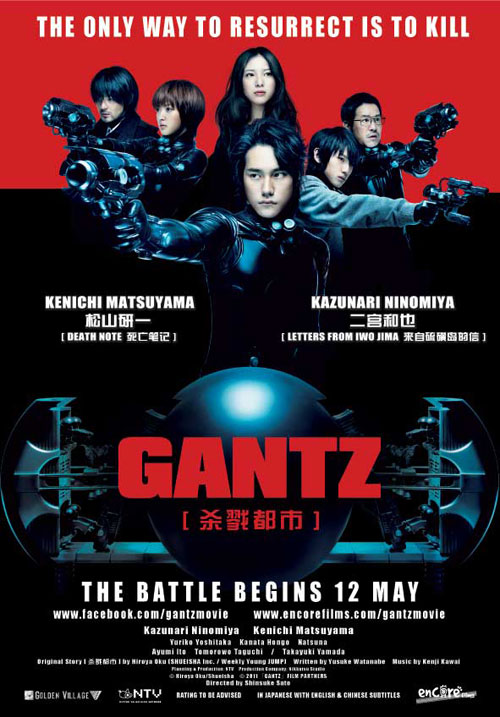 As promised, Otaku House is proud to announce our joint GANTZ-Otaku House promotion!

GANTZ-Otaku House Promotion
Starting 20 May 2011, customers at our stores who spend $90 and above in a single receipt will be entitled to either:
a) A FREE exclusive Official GANTZ poster (or)
b) A FREE exquisite Official GANTZ ring which doubles up as a bottle opener

The freebies are limited in quantity so this promotion goes on while stocks last!
* This promotion is only valid in the Otaku House outlets in Singapore only.

Thanks to Encore Films; for the awesome movie, and for the partnership.
By the way, some of us at Otaku House were treated to an exclusive movie preview of GANTZ last week and I have to say… Kenichi Matsuyama is too damned hot! – fan girl squeal- Catch the movie if you haven't. I can't wait for GANTZ Part 2. Just for Kenichi Matsuyama.
Ok, I concede, Natsuna is pretty hot too. In fact, she's drop-dead gorgeous in that black skin tight suit. I think the body suit was designed with her in mind. You can almost imagine her with light blue hair and a white suit as Ayamani Rei.
GANTZ Movie Synopsis
College Student Kurono (Kazunari Ninomiya) witnesses his childhood friend Kato (Kenichi Matsuyama) attempting to help a drunk who has fallen onto the subway train tracks and spontaneously jumps in to help him. However, both are run down by the oncoming train…In the next instant, they find themselves transported to a strange apartment with other people who should also be dead. In the center of this room, is a strange black orb known as "GANTZ." GANTZ enlists each of them on a mission to hunt down and exterminate "aliens," providing them with fighting suits and weapons. Is this world a game or reality?