Launch of Otaku House New Website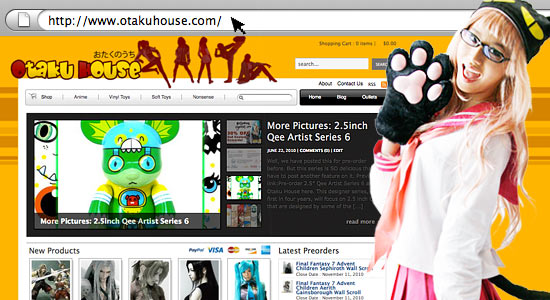 Otaku House is pleased to announce the launch of our all-new website and new domain name! From now on, you can access our website directly at both our old domain name and our new one at www.otakuhouse.com!
New improvements to our website includes a hassle-free online shopping service for our friends all over the world. You can now buy selected items from us with a click of a button, where ever you are!

As we have just launched our new website, products are still in the process of being added in. We hope to eventually add everything in our store onto our website, but in the meantime, hop on to our shops if you're in town!
Our cosplay costumes are also currently not on our website yet. If you would like to purchase them, or would like to enquire if we have a particular costume, drop us an email at help[@]otakuhouse.com for a quotation if you are overseas. If you are in Singapore, come on down to any of our outlets and feel the quality and caress the fabric of our superior cosplay costumes!
For more instant updates about Otaku House, join our facebook at facebook.com/otakuhouse, or twitter at twitter.com/myotakuhouse.