Free GANTZ Movie Tickets and Premiums at Otaku House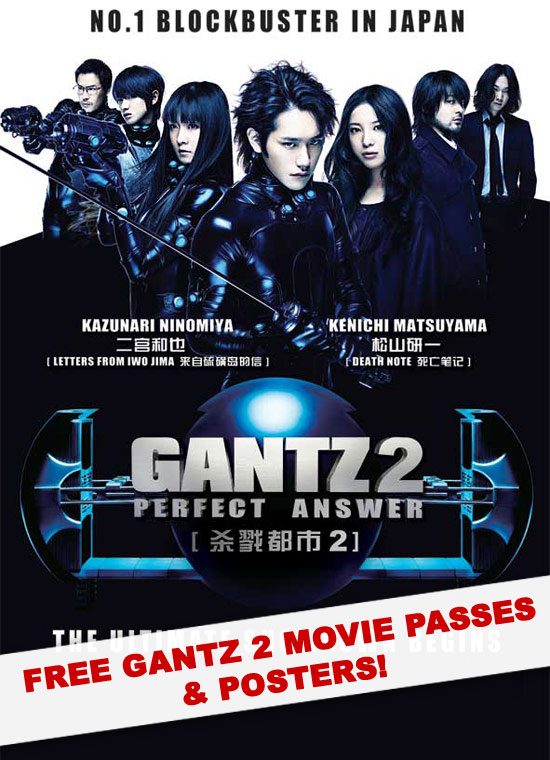 Have you watched the final installment of Japan's No. 1 Blockbuster : GANTZ 2 yet? If you haven't, here's your chance to win in-season movie passes in this GANTZ – Otaku House joint contest and promotion to the awesome finale of GANTZ 2 : The Perfect Answer!
1. GANTZ-Otaku House Contest :
5 Pairs of GANTZ 2 : Perfect Answer Movie Passes to be Won!
Tell us who your favorite character in GANTZ is and why, and stand to win a pair of in-season GANTZ movie passes!
How to join contest
Scroll down and comment below under this page telling us which is your favorite character and why. We will choose the 5 most interesting "Perfect Answers" to to win Golden Village in-season movie passes to GANTZ 2 : The Perfect Answer! (if we're torn between the choices, and your post gets alot of likes from other readers, it helps us with choosing too!)
Rules
Start your comment with "Otaku House-GANTZ Contest : " to qualify your comment as a contest entry.
An example of how your comment entry should look like is as follows:
——————–
Otaku House-GANTZ Contest : My fave character is the naked bald dude in the GANTZ black ball because bald guys are hot.
——————–
No word limit (but please don't write us a 1000-word essay!), no obscenities and other unpleasantries. And don't plagiarize our example! Be creative 😉

*Contest till 31 August 2011. Winners will be contacted directly.
*Promotion valid for Golden Village cinemas in Singapore only
*Tickets valid till end of movie screening.
2. GANTZ-Otaku House Promotion :
Free GANTZ Movie Poster or exclusive GANTZ Ring Bottle Opener
This promotion is back by popular demand! With every $50 purchase at Otaku House, you get a FREE GANTZ poster from either Movie 1 or 2, or an exclusive ring-shaped Bottle Opener.

*While stocks last