Cosplayers Around the World Feature : Audrey Pertuisot from France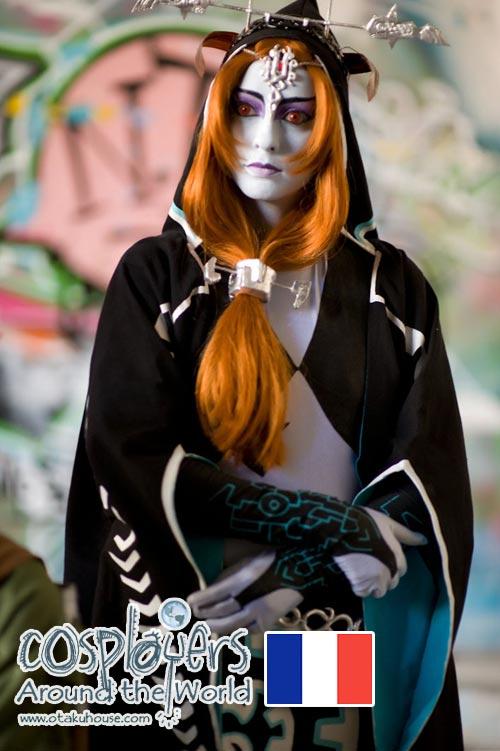 Ah, France. The name of that nation fills my head with dreamy memories of the graceful country.
And in this issue of "Cosplayers Around the World", we land in  'La Ville-Lumière' (City of Lights), the infamous nickname of romantic Paris and speak to a beautiful French cosplayer, Audrey Pertuisot.
"I am currently a Art Director's assistant in a communication agency. The work is not amazing, but it allows me to live comfortably in Paris. I followed a 4 year art education in Lyon and I am very interested in Japan (japanese culture, not manga) I love video games as well."
Biography
Full Name : Audrey Pertuisot
Age : 26
Country Born in : France
Citizenship : French
Date of Birth : 21-04-1985
Zodiac Sign : Taurus
Height : 1.65m
Coke or Pepsi? : I don't like either one, but Coke for their brand identity and cool commercials 🙂
Mac or Windows? : Mac … for now…

More About Audrey
1. At what age did you start cosplaying and how long have you been cosplaying?
I started in 2009, with my Midna costume. ( I was 24)

2. What inspired you to start cosplaying?
My love for japanese culture ; I discovered cosplay when i dressed up as a geisha in a convention and discovered what cosplay is all about.
Also, my love for Arts and Crafts, I went through an artistic formation where i practiced painting, sculpture, etc. This was a great opportunity to put those skills to the test !

3. Which is your most difficult cosplay / most memorable cosplay and why?
Up until now, the toughest one has been Yuna black mage. I had to sew a skirt with a tank top from scratch, and since I never did any real sewing, it took me very long and STILL the result is not good enough for me. This reminds me that I'll have to get back to it soon !

4. What is your next cosplay project?
It's a secret 😉

5. Tell us about some memorable experiences in your costume making.
The 15 hours spent on the floor painting Midna's cape (my knees still remember this), and putting it on before going to sleep at 4 am to make silly videos with my friend who was making a Zelda costume.

6. What are some advice you would like to give to cosplay newbies?
First, choose a character that sort of looks like you. Then pick one you actually know and like, it will make great pictures if you are in your character.
I personally pick a cosplay project on the design, the colors, and the craftsmanship required to make it.
And last but not least, make sure you have some money to put into your projects because cosplay can be expensive !!



More Cosplay photos of Audrey