5 Easy Cosplay Ideas on a Budget for Your Next Con Under $25
So, you're thinking about going to a con, yay! If so, you're probably also thinking, "Oh crap, that's really soon! How am I going to have time to make a costume?" or "Oh crap, those tickets were expensive! How am I going to afford a costume?" Or, if you're like me, probably both.
Never fear, between your closet, Goodwill, and Wal-Mart, you can pull together a sweet cosplay for $25 bucks or less.
Goodwill is the holy grail of cosplay pieces. Even if you can't find something that's perfect for your costume, you can usually find two pieces to combine to make just what you want. Their prices are usually much more affordable than new, plus this form of upcycling is much healthier for the environment (and your wallet!). This is true for complex cosplays as well, but works especially well for easy cosplays like the ones listed below.
If you do need to combine pieces and you don't own a sewing machine, Amazon and Wal-Mart both carry a product called Liquid Stitch which is basically fabric glue you can wash. It's cheap and works well for many projects.
If you find the perfect piece in the wrong color, Wal-Mart also carries fabric dye for only a couple dollars. You just put your garment in the washing machine with the dye and it does the rest. I've never had an issue with it staining my washing machine. I used this technique for a bright purple Joker jacket made from a white blazer I found at Goodwill for less than $10. It worked great!
Wal-Mart is also a great option for hair color. If you can't afford a wig for your cosplay, it's best to stock-up on temporary spray-on hair dye around Halloween when it is cheap and plentiful. However, they usually carry temporary and semi-permanent hair dye in a variety of colors year-round. If you live in a smaller area, Amazon can be a better option for this.
For a cosplay that requires a specific style of glasses, Walmart, Amazon, and Claires often carry faux frames for reasonably cheap.
If you have a little more time or need the perfect style of glasses for your cosplay, I suggest Firmoo.com.
I actually got my prescription glasses here for less than a tenth of what I would have paid at Lenscrafters. (I have a really high prescription and need super high-index lenses.)
If you have a reasonably low prescription, you can get glasses for your cosplay that match your actual vision for very cheap, and they often run specials to get a free second pair in another style. At the time of this writing, they are advertising two pairs for $19. If you don't need a prescription, the glasses only cost a few dollars. They ship worldwide, but if you are outside of Asia, they may take several weeks to arrive.
Anyway, to the budget-friendly cosplay options!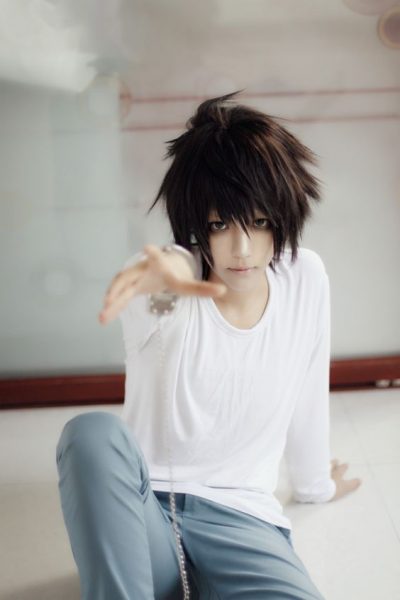 L from Death Note
This is probably the absolute easiest cosplay option when you're strapped for cash or time. Male or female, it doesn't even matter. Grab a white longsleeve shirt, some black pants, a dollar stick of Wet'n'Wild eyeliner, some temporary black hair dye (which is among the easiest to find!), and a notebook. You're all set! A lot of people can find these things around their room, but if not, this is an easy cosplay for under $25.
Misty from Pokémon
Easily recognizable, bright, and fun, Misty is a great option especially with the recent Pokémon Go craze. If you don't have simple denim shorts, you can cut the bottoms off a pair of old jeans or buy some at Goodwill. A yellow tank is easy to make from an old undershirt and some yellow fabric dye. Your biggest cost here will be the red suspenders which you can grab on Amazon Prime with free shipping for around $5 here.  And if you're a guy? Who cares, that will only make this cosplay all the better!
Haruhi Fujioka from Ouran High Host Club
This is an easy, quick cosplay for girls and guys alike. Even Haruhi's peers in Ouran High Host Club are confused about her gender. The sweater has some room to play on the color—anything from brown to burgundy will work (and both colors are easy to dye a light colored sweater!). A white collared shirt should be a snap to find at Goodwill if you don't have one. Simple black pants and some sensible dark shoes make the bottom half of this cosplay easy.
To pull it all together, all you need are some big glasses. I suggest Firmoo for cheap prescription glasses (less than $20 if your prescription isn't bad!) or these simple frames on Amazon Prime for $7.99.
Ayato Kirishima from Tokyo Ghoul
Black boots, black jacket, black pants—you'll have no problem finding these at Goodwill if you don't already have some. If you find clothes that fit just perfectly in another color, it's easy to dye almost anything black. You'll only need one dye packet, and you can throw it all in the washer at once. What really makes this cosplay stand out as recognizable is the purple scarf and hair. You can dye any light colored scarf purple.
The hair here could be done through temporary spray, but would work best as a wig or semi-permanent dye. If you've already got the clothes, I suggest a splurge on the hair. If you don't mind dying your actual hair, Manic Panic hair dye would be amazing in this cosplay. Otherwise, Amazon has quite a selection of reasonably affordable short wigs for less than $15. Plus, a mask would be very easy to make from black fabric scraps and some fabric glue.
Lars from Steven Universe
Stepping outside of traditional anime, Steven Universe has gained a lot of traction in the Otaku community. Lars is a great, quick cosplay to pull together for cheap. A purple t-shirt (don't forget you can dye another shirt!), a white undershirt, and some ripped jeans.
The splurge on this cosplay is the shoes. While any green shoes will do, if you don't have some on hand, I suggest buying a cheap white pair of sneakers for less than $15 at Wal-Mart or Goodwill. Then, just run them through the washer with a packet of green dye.
Bonus: If your friends want to leave RIGHT NOW and you already own a tablet, use the tablet trick! No costume required. This works well with costumes too!
What other ideas do you have for a quick and affordable cosplay? Let us know in the comments!