Cosplay Interview with Kipi and Jacky Dosai at STGCC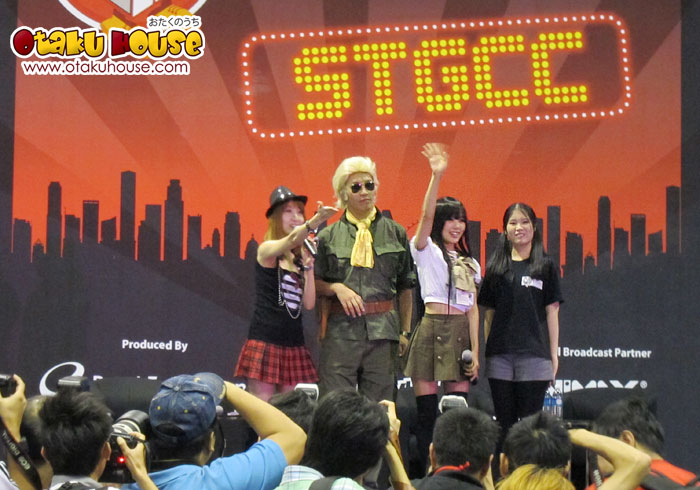 The secret is revealed! Towels and clam chowder are Kipi's secret weapons to her Diva-esque cosplay. The 1 hour cosplay interview titled " Cosplay : From Japan with Love" with Japanese Celebrity Cosplayer Kipi and Cosmode editor Tadaaki Jacky Dosai at Singapore Toy Games and Comics Convention (STGCC) 2011 on 20 August was short of nothing but relaxed laughter.
Kipi STGCC
Audiences could text questions to the 2 cosplayers on stage. An they were an interesting match. A married man and a young girl cosplaying as Shana of Shakugan no Shana, speaking of their passion on cosplay. While Kipi exuded innocent girly excitement at being at the event, even literally jumping in joy on stage; Jacky Dosai was… busy twittering, and taking pictures of the audiences. At one point, he even got Kipi to take a picture with him on his cellphone on stage in the middle of the dialogue to upload onto his twitter. A fun quirky man, he is.

Some highlights of the Cosplay Interview with Kipi and Jacky Dosai :

Why they started cosplaying
Jacky did a school paper on cosplay and although the paper is good and done with, he never seemed to finish up on his cosplay project. That and a pretty maiden kept him going. No it's not his wife.
Kipi was inspired by 'kawaii' cosplayers she found on the net, where she thought they were both and neither 2D nor 3D. Mesmerized, she embarked on this cosplaying journey. And it's been 5 years since.

Differences between Cosplaying in Japan and in other Countries
Both Jacky and Kipi remarks that cosplaying in Japan is somewhat more 'subdued' compared to overseas. While overseas (here, overseas means out of Japan) cosplayers engage in 'cosplay fashion shows' and 'cosplay performances', Kipi noted the absence of this. Jacky, who is more veteran cosplayer, further shared that once upon a time, maybe 20 years ago, Japanese cosplayers did performances as well, until some people started taking sleazy photos of the cosplayers and the public started to frown upon the activity, labeling it as 'unhealthy'.
But well, all bad times will come to an end, and things are starting to improve, with some Japanese cosplayers porting over to the online world to display their performing skills. Kipi looks forward to sharing her performing skills as well, and is working hard at her dance number. Look forward to it!

Their Most Memorable Cosplaying Experience
Kipi shares her preparation for her Black Rock Shooter cosplay as one of her most memorable experiences. To attain the svelte figure of the bikini clothed BRS, Kipi lived on fluid diet; specifically clam chowder for a period of time until she lost 8kg!! She says it was such a horrendous experience that she never wants to do it again.
But hey, isn't she known for her slim physique? Kipi also shares that she isn't slim all the time, and her weight tends to yoyo up and down, so she diets pretty often. Talk about endurance and perseverance!
But while her flabs come and go, her chest never grew much though. And she found herself stuffing towels… there…. to enhance those boobies during cosplaying. "Yes, towels, so please don't be fooled everybody" says Kipi matter-of-factly. Don't you just love her forthcoming-ness.
We found a photo of Kipi in her Black Rock Shooter cosplay to ogle at the fruits of her dieting labor. Photo belongs to Kipi.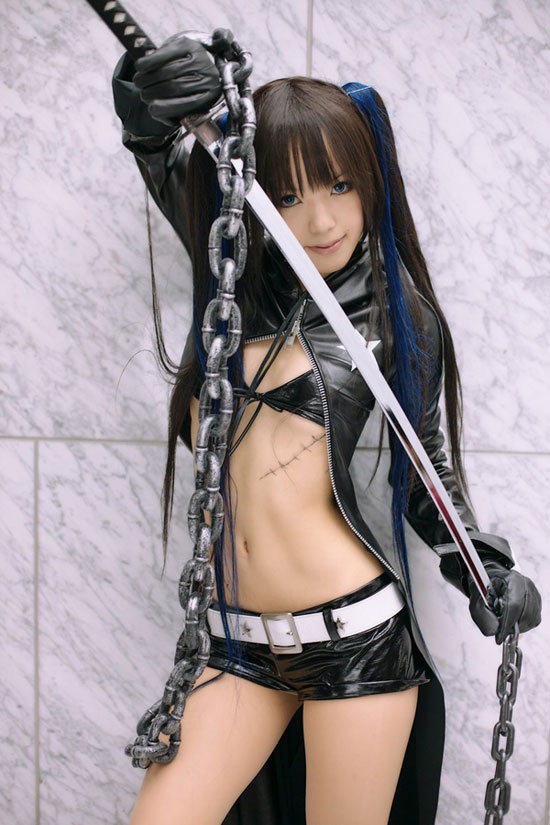 Some photos of the Kipi and Jacky Dosai Cosplay Panel