Tomorrow's Joe (Ashita no Joe) Movie Review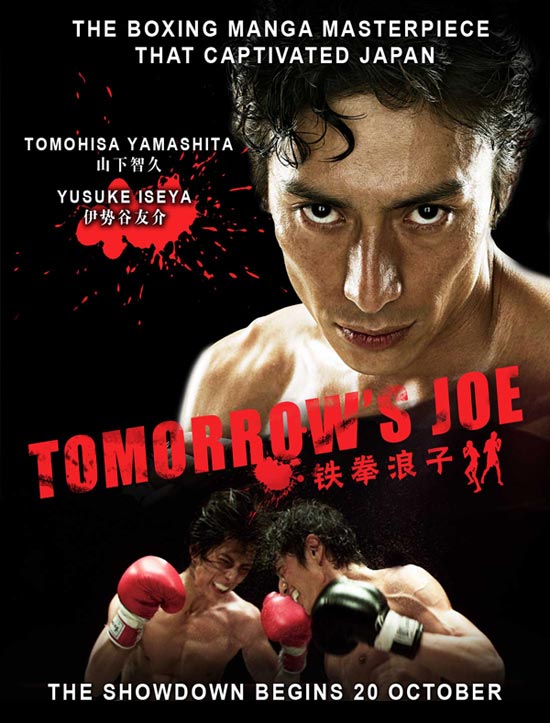 "Tomorrow never comes for those who simply let his days go by. Go get yourself beaten up and wounded and stand up again. Know how it feels like to bleed and what pain is. Only then will Tomorrow come for you."
– Tange Danpei from Ashita no Joe (Tomorrow's Joe)
Such was the inspirational line spoken by Yabuki Joe's coach one twilight on the Bridge of Tears; a bridge that leads a defeated man back home to his house in the slums.
"Tomorrow's Joe" is a movie adapted from Ashita no Joe; a classic boxing manga and anime from the 1960s-1970s. "Tomorrow's Joe" as a stand-alone movie is a beautifully written exposition of life in the boxing ring, and of life in general. Layered with hidden meaningful quotes such as the one above, the theme of the movie in a nutshell is about a rising boxing star's journey to learn about the true meaning of "Tomorrow".
Tomohisa Yamashita, who acts as Yabuki Joe, also shows us how to beat the crap out of your opponent while having your eyes covered with your stylish sweat-drenched hair. So fangirls, prepare to scream at the battered Tomohisa Yamashita and Yuusuke Iseya.

Tomorrow's Joe opens in theatres tomorrow, 20 October 2011 in Singapore. Watch the movie trailer here.

Tomorrow's Joe Movie Ticket Giveaway
Otaku House, in a joint Tomorrow's Joe movie promotion with Encore Films, will be giving away 5 pairs of Tomorrow's Joe movie tickets. Join the Otaku House facebook at facebook.com/otakuhouse for details of the giveaway coming up soon!

Have you read the manga or watched the anime? How does it compare to the movie? Tell us your comments below!