Angry Birds vs. Naruto Ninjas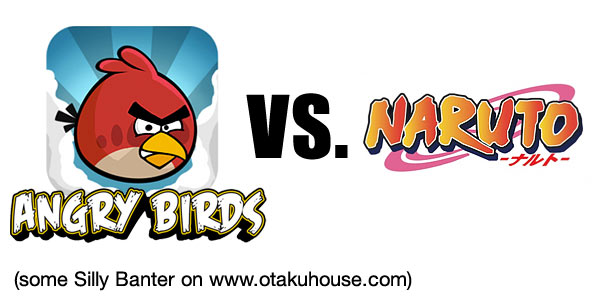 Angry Birds, the top game in the iTunes App Store has gained such a huge cult following that we now have all sorts of Angry Birds merchandise and even Angry Birds card games and what not. Now what if the Angry Birds decide to take a further step out and do a career switch to become ninjas?
The thought occurred to me one fine evening while I was happily flinging the birds and listening to the all-too-familiar : "Weeee~eee~!" (Crash, boom, splinters).. "Yay hay!!" when it suddenly hit me how all these birds remind me of Naruto!
Here's why :
Yellow Bird as Kamikaze Minato a.k.a. Yondaime
Comments : It's yellow and it's all about speed. It can only be the Yellow Flash of Konoha!
Tip: Not everybody knows that the yellow bird cuts through wood best, so make sure you use Yondaime er the Yellow Bird against wood elements.
Blue Bird as the Kage Bunshin no Jutsu
Comments : "kookoo-shakoo" With a simple incantation, the Blue Bird does a Kage Bunshin no Jutsu and splits into multiple clones to attack the Pigs. The blue one is best against glass blocks so Haku would be very afraid! -Heh-
Black Bird as Deidara
Comments : "Art is a blast" So says both the Black Bird and Deidara.
Big Red Bird as Akimichi Chouji
Comments : This Fatass, opps I'm not supposed to say that word; works as efficiently as Chouji's Human Meat Tank when it comes to destruction.
Green Bird as Sango (guest appearance from Inuyasha)
Comments : Sango does a cross-universe appearance from Inuyasha to participate in the fun! I mean, when it comes to boomerangs, who else but her!
Green Pig as Ton Ton
Comments : They're both endowed with accessories! -snort-