Kimi ni Todoke : From Me to You Movie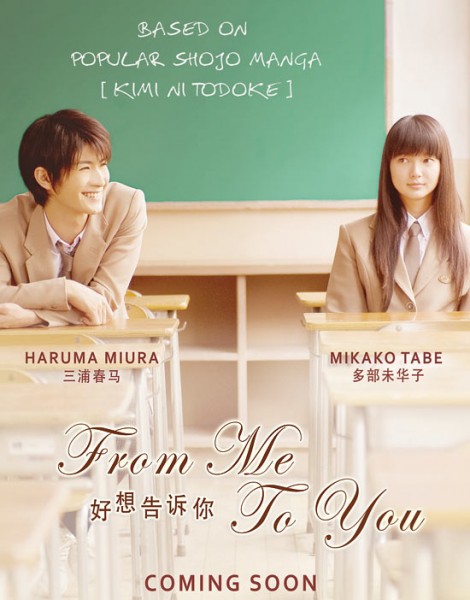 We're promoting this movie on behalf of the production house! For fans of Kimi no Todoke, you don't want to miss this great movie adaptation!

Kimi ni Todoke : "From Me to You" Movie Synopsis
From Me To You is a manga turned live action movie, telling a love story which has slowly developed over the span of four seasons. The story started out during the time of spring in April, where High School Commencement Ceremony took place. Sawako Kuronuma (Mikako Tabe), a serious and praiseworthy young girl, had a motto of "One good deed a day". However, her sinister looks provoked fear in her fellow students, earning her the label, "Sadako" (a character from the horror film "Ring" directed by Hideo Nakata).  It's also precisely because she cared about how other people feel that she's not good at expressing herself. Consequently, she always seemed out of place. Sawako first meets Shota Kazehaya (Haruma Miura) when she gave him directions to the high school "Commencement Ceremony." She later discovered that they are in the same class.
Open and friendly Kazehaya, on the other hand, gets along with everyone and is equally popular among both male and female students. Although Sawako was initially bemused by the friendly way in which Kazehaya treats her, she gradually began to experience feelings of admiration and respect. Meanwhile, Kazehaya finds himself drawn to Sawako as she works behind the scenes carrying out school chores. When the second semester commenced, it was time to swap desks. No one dared to go near Sawako's desk for fear of being "cursed". Kazehaya however, takes it upon himself to sit right next to her. Chizuru, Ayane and Ryu Sanada followed suit and sat in the remaining desks around Sawako.
Popular and pretty Ume Kurumizawa (known to everyone as Kurumi) is an ex-classmate of Kazehaya from junior high. Sawako's school-life becomes even livelier when Kurumi tries to make friends our heroine. Just when Sawako started to feel at ease around Chizuru and Ayane, she overheard the heartless comments of other students about how she seemed to have forgotten her place just because she was friends with Chizuru and Ayane. Hence, Sawako started to avoid her friends. At the same time, Chizuru and Ayane stumbled across a vicious rumor that is circling the school, supposedly instigated by Sawako. Kazehaya can't bear to see the rift between the three girls and acting upon his advice, Sawako single-handedly confronts the girls who were badmouthing Chizuru and Ayane.
Soon, it was the time of Christmas. Kazehaya had organized a party for the entire class, but his dream of an ideal Christmas lies elsewhere. Although Sawako longed to attend the Christmas party with her classmates, Sawako couldn't quite pluck up the courage and ended up putting the feelings of her mother and father first. Will Kazehaya let Sawako know how he feels? Will Sawako tell Kazehaya how much he means to her? The love story between Kazehaya and Sawako shall continue into the long winter…
Film Details
Film : From Me To You
Director : Naoto Kumazawa
Genre : Romantic Comedy
Year of Production : 2010
Language : Japanese (With English and Chinese subtitles)
Duration : 128  minutes
Release Date  :  6 October 2011 (Singapore)
From Me to You Movie Screens