Momiji Dolls arrives in Singapore at Otaku House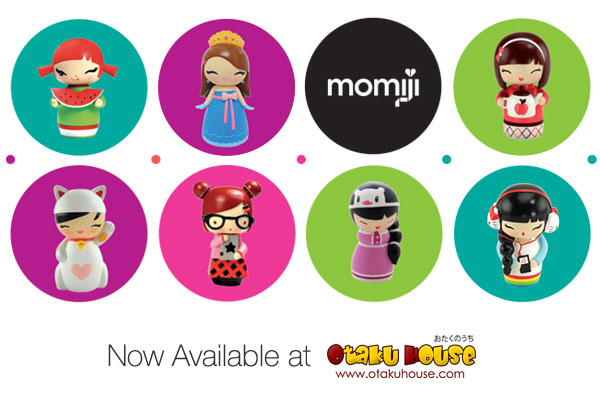 Your favorite Momiji Dolls and Zakka have landed at Otaku House! Now you can find Momiji Dolls in Singapore at Otaku House. We sell online too!
What are Momiji Dolls?
Momiji dolls are inspired from the traditional Japanese Kokeshi Dolls that originated from the Edo period in Japan. Kokeshi dolls are about 3 inches long and carved from wood and hand painted. The dolls usually consist of a head and elongated torso which represents the entire body below the head. Oh you know you've seen Kokeshi dolls before!
Momiji dolls are the modern form of these Kokeshi dolls, and are made from resin instead of wood. The main difference is the unique secret space in the base of each Momiji doll. The spaces allow you to insert a folded piece of card or paper that contains your secret message or greeting.
Also known as Momiji Friendship Dolls, these Momiji dolls are usually given as gifts to friends and family; with the dolls passing on the secret messages from the giver. This act of giving small gifts is part of a Japanese culture known as omiyage.
Because of the unique and fun designs of the Momiji dolls, they have been described by the press as "melting pots of Anime, Manga and Meiji cultures."
Momiji in Otaku House
Each Momiji doll is hand pained with love, has their own unique character and personality and each doll is never around for very long; with new designs replacing the old ones all the time. There are a few ranges of these dolls; namely Randoms, Celebration, and Designer. The Designer range are conceptualized by invited artists, such as the Book Club range of meganekko (Japanese for 'bespectacled girl') dolls by Luli Bunny.
Otaku House's parent company is now the official authorized distributor* for these little tokens of friendship and love. So get ready for Momiji to hit the Otaku House outlets by November 2011!
Meanwhile, here's a sneak preview launch on the Otaku House Online Shop of the 2011 range of Momiji Dolls and Zakka, available for immediate purchase!
"Momiji is inspired by friendship and little kindnesses. It's about filling life with memories and messages."

*For distribution/wholesale enquiries on Momiji dolls and our other products, email [email protected].

Momiji are Message Dolls