Kaiji 2 in Singapore – Win Red Carpet & Gala Premiere Tickets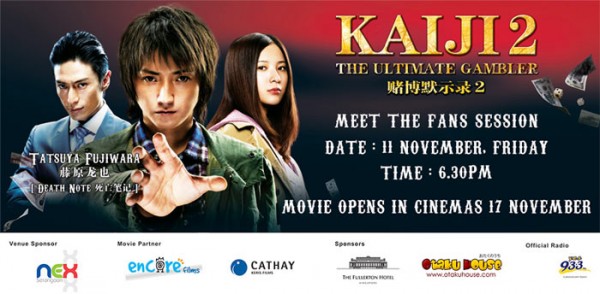 The lead actor of KAIJI 2, Tatsuya Fujiwara, will be coming to Singapore to promote the second installation of Kaiji on 11 November 2011! This will be the first gala premiere in Asia, outside of Japan, so fans of Tatsuya Fujiwara, get ready to make lots of noise!!

Win Kaiji 2 Red Carpet & Gala Premiere Tickets
Otaku House is giving away 12 pairs of Kaiji 2 Red Carpet & Gala Premiere tickets which are otherwise priced at $100/ pair of tickets!
Purchase a min. of $60 in a single receipt at any Otaku House outlet to enter a lucky draw from now till 10 November! 12 lucky winners will win a pair of Red Carpet & Gala Premiere tickets (worth $100)!

Up close and personal with Tatsuya Fujiwara
Here are your 2 chances to get up close to Tatsuya Fujiwara of Death Note's Kira fame on 11 November 2011!
1. 6.30pm : Meet The Fans session at nex Event Plaza (Otaku House is a sponsor for this event)
2. 8:30pm : Kaiji 2 Red Carpet & Gala Premiere at The Cathay (Premiere at 9:30pm)
Tatsuya Fujiwara will be engaging fans in a game at the Meet The Fans session, and winners get to win up to $1000 worth of prizes from Otaku House as well as other prizes!
The exciting Red Carpet and Gala Premiere will also be graced by Tatsuya Fujiwara himself. Tickets to the Red Carpet and Gala Premiere can be bought here. Each ticket is priced at $50.

About Kaiji 2
The much-anticipated sequel to the hit movie, KAIJI, is about to hit theaters everywhere, bringing to the silver screen a feature film adaptation of arguably the most popular episode from the original comic book series. Get ready to let everything ride on KAIJI 2!
Ever since first appearing in 1996 as a serial manga in Kodansha's Young Magazine, KAIJI has amassed a cult-like following, recording book sales of over 18 million copies and leading to a box office hit film adaptation in 2009 entitled: KAIJI. Now in 2011, the much-awaited second film is set to hit the screens as KAIJI 2, based on what many assert is the most popular episode from the comic book series, "The Greed Swamp". KAIJI's author Nobuyuki Fukumoto was at the center of the screenplay's writing process for the sequel, adding a new high-risk game of his invention to ratchet up the psychological intensity. There's Chinchirorin, the "dice game from Hell" that lifts Kaiji out of an underground slave labor existence to take part in Princess and Slave, a live-or-die game of choice, and finally, the "Man-eating Swamp" – a monstrous pachinko machine capable of instantly destroying lives of anyone dazzled by its big payoff. On his own, Kaiji stands little chance of beating any of these games. But that won't stop him from staking his life on saving his friends and restoring everyone's lives!