Otaku House Cosplay Idol 2011 Official Launch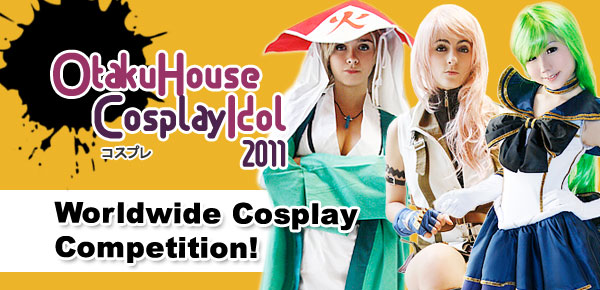 The first huge scale cosplay competition where cosplayers from all over the world compete for prizes worth a total of USD$4000!!

The sweet peepz from Otaku House have brought us the Otaku House Cosplay Idol Competition, which runs on the simplest and most basic of rules. Send a photo of you cosplaying as any character from any anime, manga, movie or game to [email protected] and your photo will be published on the Otaku House Facebook for the world to vote by liking your photo.

The contest is based on 4 major categories: North America, South America, Europe, and Asia, and the most exciting thing is, there will be 3 cosplay idols from each category!

There are no strange frills attached to joining the competition that most competition with such attractive prizes usually come with. The qualifying round of the competition will run from April to July 2011, and the top cosplay photos with the most 'likes' will enter our Finals in September 2011. So don't waste any time to have your photos up for 'liking'

Click here to visit the main page of the Cosplay Idol Competition for the full details on signing up and be the the Otaku House Cosplay Idol 2011 today!.