O-Bon in October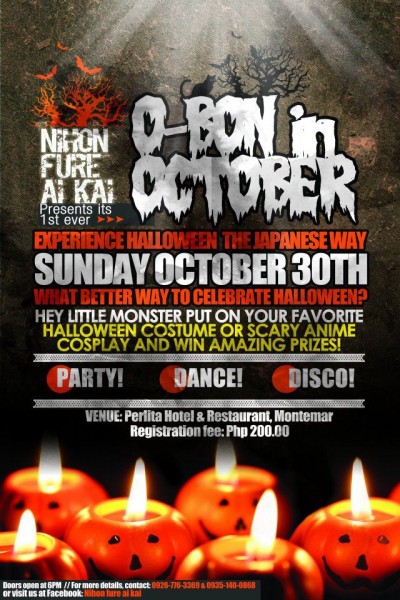 O-Bon in October is a Halloween party celebrated in the Japanese way. The Nihon Fure Ai Kai (A Touch of Japan Club) of WMSU College of Nursing hosted this small but fun-filled party together with sponsors R.A. Gapuz Review Center and St. Peter Zamboanga. The fun started at 6:00 PM at the Perlita Hotel and Restaurant last October 30, 2011. The guests were the members of the club and friends who love dressing up for fun.
O-Bon in October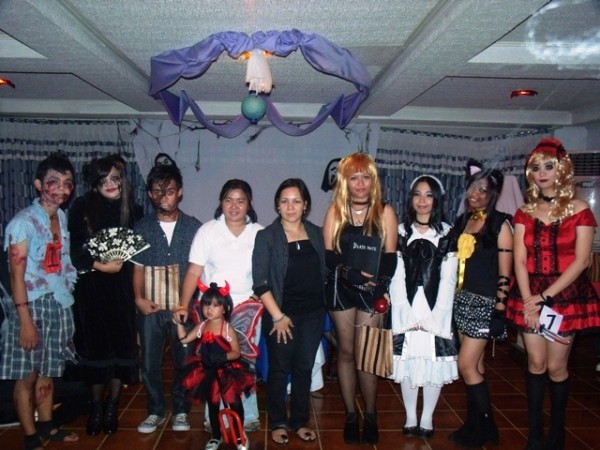 NIHON FURE AI KAI'S FIRST HALLOWEEN EVENT
Another first in Zamboanga, the O-bon in October did not fail cosplayers who want to cosplay their favourite characters. The event had the costume competition as the highlight. Two winners were chosen by the audience through voting: the spookiest character and the best non-scary costume. Most of the participants cosplaying an anime character or inspired by one fell into latter.  Of course before the start of the competition, the organizers chose nominees for these categories.
MORE THAN A PARTY, LESS THAN A CONVENTION
Most of the party-goers had a hint of Halloween in their outfit. Witch's hats and capes were common but a few stand out from the crowd: a kawaii neko-chan, gothic lolita of fright, chibi devil girl, and scar-face (to those people, sorry! The emcee did not mention your titles so I kind of invented cool names for you). It was not like other conventions where people are squeezed in one location. The venue had tables and chairs where we can sit on. They had served food too.

O-Bon Details
Country: Philippines
Location: Zamobanga City
History: 1st year
Date: October 30, 2011
Organizers and sponsors: WMSU CN Nihon Fure Ai Kai, R.A Gapuz Review Center, St. Peter Zamboanga
* This article is submitted by an external blogger who is not affiliated to Otaku House. The author's views and opinons are entirely his/her own. To contribute articles or cover events for Otaku House, email us at iwanttoblog[@]otakuhouse.com.