ASCOT Anime Songs Concert Tour 2016 Singapore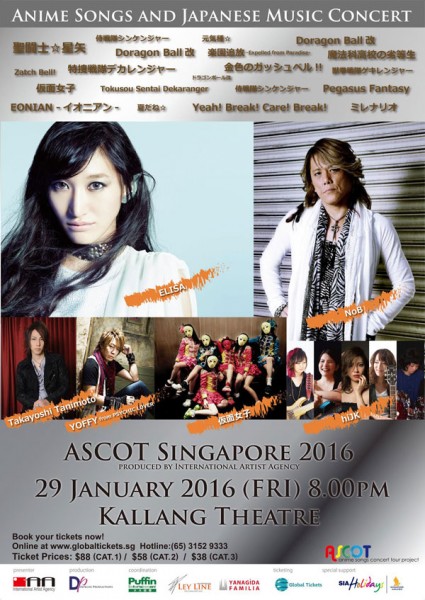 Anime Songs Concert Tour (ASCOT) 2016 will be in Singapore for the first time ever! Previously, the very well-received ASCOT has performed in Shanghai, Hong Kong and Thailand!
The first anisong concert of the year in Singapore features Japanese singers Elisa and NoB with many other impressive anisong legends, as well as an idol group Kamen Joshi (aka 'Mask Girls' in English)! This is a concert definitely not to be missed by all fans of anime and Japanese music!
The details of ASCOT are as follow:
Date: 29 January 2016 (Friday)
Time: 8.00pm
Location: Kallang Theatre, Singapore
Price: S$88 (CAT 1), S$58 (CAT 2), S$38 (CAT 3)
Tickets are already on sale and can be purchased at Global Tickets Website! What are you waiting for? Get yours today!
Pssst.. Here at Otaku House, we are having EXCLUSIVE GIVEAWAYS for our supporters to ASCOT Singapore 2016! Be sure to check out our Facebook page to find out how you can participate in this giveaway!
See you at ASCOT Singapore 2016! 🙂