IT'S OUT! Otaku House Cosplay Idol 2011 – North America Finalists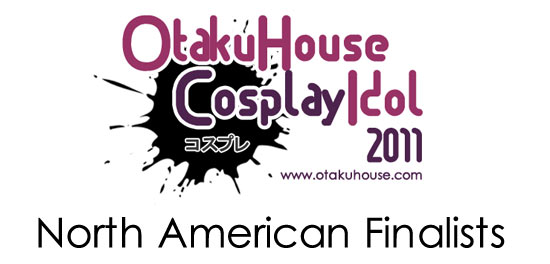 F.I.N.A.L.L.Y. We now unveil the 40 Finalists from the 1600 contestants from 8 groups in the North America category of the Otaku House Cosplay Idol 2011. The qualifiers have reached an epic close, and while most of the Finalists would surely have an idea of who they are by now, the rest of us are incredibly excited to look at the results of 4 months of voting.
A reminder that ALL OTHER CATEGORIES are still OPEN for new entries! Click here to join the epic Otaku House Cosplay Idol 2011 Contest! (Check out our FAQ for deadline details)
A few things to take note of for the Finalists:
1. All Finalists will receive an email from the Otaku House Cosplay Idol Team on what to prepare for the Finals to be held in September by the end of the week.
2. Finalists who do not manage to provide us with the required information by the required deadline will be replaced with the next best player in their group.
3. The mechanics of the Finals will be announced to the public before the Finals.
We had an amazing time reviewing the many many talented cosplayers in the past 4 months, and it's a pity we could only choose the Top 5 out of 200 in each group. Alot came quite close too! Irregardless, I hope everybody had fun!
And now without further ado, the North American Cosplay idol Finalists! Please give them a round of applause for making it this far!
Otaku House Cosplay Idol North America Category – Top 5 from Group A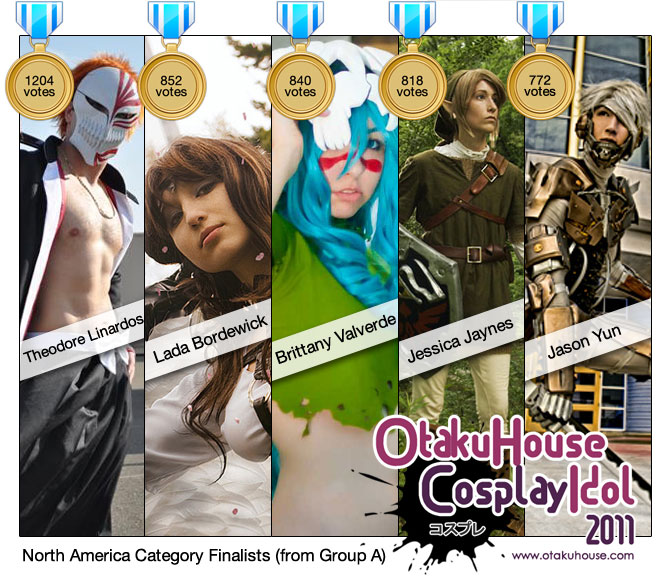 1. Theodore Linardos a.k.a Living Ichigo (Bleach – Kurosaki Ichigo Cosplay)
2. Lada Bordewick (Angel Sanctuary – Alexiel Cosplay)
3. Brittany Valverde a.k.a. Tollie (Bleach – Nelliel Cosplay)
4. Jessica Jaynes (The Legend of Zelda – Link Cosplay)
5. Jason Yun (Metal Gear Solid Rising – Raiden)
Otaku House Cosplay Idol North America Category – Top 5 from Group B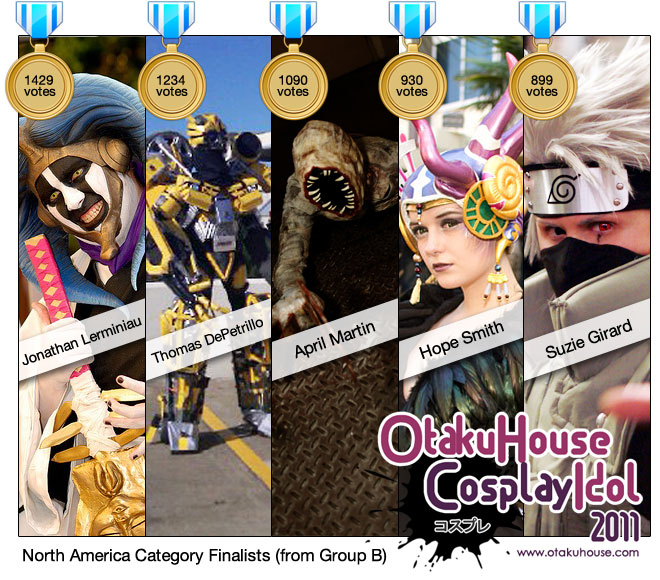 1. Jonathan Lerminiau (Bleach – Kurotsuchi Mayuri Cosplay)
2. Thomas DePetrillo (Transformers – Bumble Bee Cosplay)
3. April Martin a.k.a. Moonwildflower (Silent Hill Homecoming – Lurker Cosplay)
4. Hope Smith a.k.a Hopie (Final Fantasy VIII – Sorceress Edea Cosplay)
5. Suzie Girard (Naruto – Hatake Kakashi Cosplay)
Otaku House Cosplay Idol North America Category – Top 5 from Group C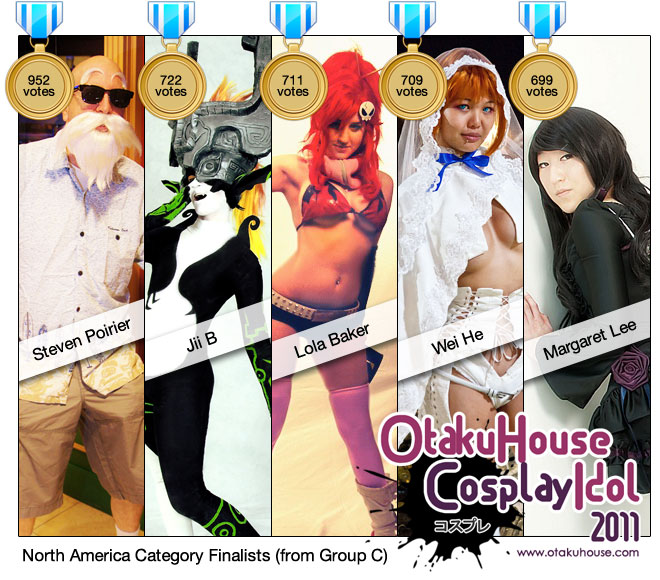 1. Steven F. Poirier (Dragon Ball – Master Roshi Cosplay)
2. Jii B. (The Legend of Zelda – Imp Midna Cosplay)
3. Lola Baker (Gurren Lagaan – Yoko Littner Cosplay)
4. Wei He (Tekken 6 – Lili Cosplay )
5. Margaret Lee a.k.a RedSonya (Vispo Raqel Figures – Raqel Gothic Cosplay)
Otaku House Cosplay Idol North America Category – Top 5 from Group D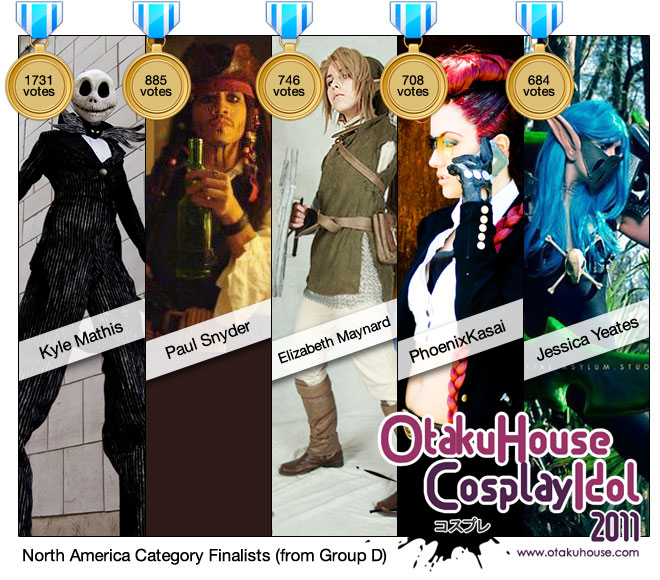 1. Kyle Mathis a.k.a. Ex-Shadow (The Nightmare Before Christmas – Jack Skellington Cosplay)
2.Paul Snyder (Pirates of the Carribbean – Jack Sparrow Cosplay)
3. Elizabeth Maynard (The Legend of Zelda – Link Cosplay)
4. PhoenixKasai (Street Fighter – Crimson Viper Cosplay)
5. Jessica Yeates (World of Warcraft – Night Elf Rogue Cosplay)
Otaku House Cosplay Idol North America Category – Top 5 from Group E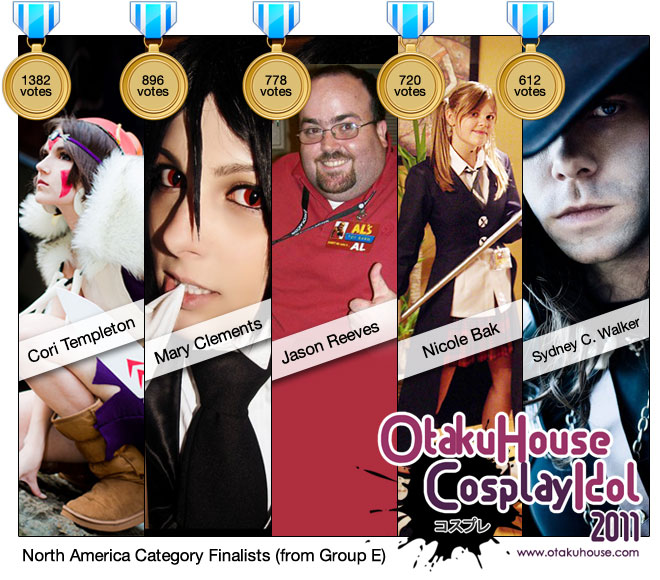 1. Cori Templeton (Mononoke Princess – San Cosplay)
2. Mary Clements (Kuroshitsuji – Sebastian Michaelis Cosplay)
3. Jason Reeves (Toy Story 2 – Al Cosplay)
4. Nicole Bak (Soul Eater – Maka Albarn Cosplay)
5. Sydney C. Walker (Vampire Hunter D: Bloodlust – Vampire Hunter D Cosplay)
Otaku House Cosplay Idol North America Category – Top 5 from Group F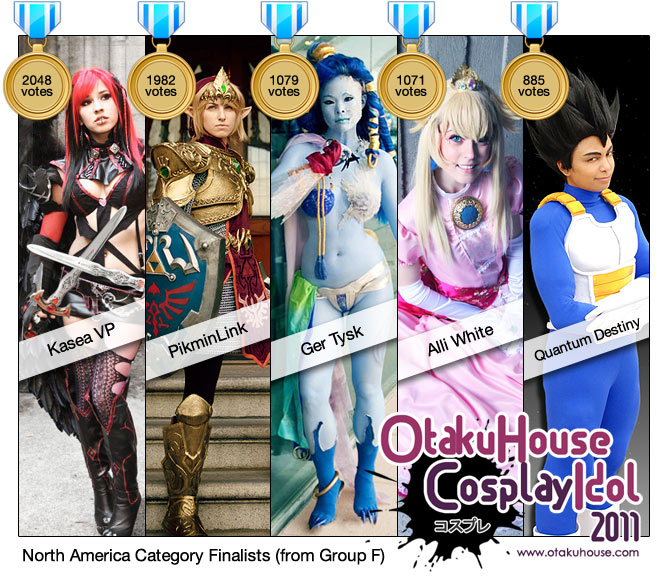 1. Kasea VP (Aion – Efinii Asmodian Assassin Cosplay *Original Character)
2. PikminLink (The Legend of Zelda – Link Cosplay)
3. Ger Tysk (Final Fantasy X – Shiva Cosplay)
4. Alli White (Super Mario Bros – Princess Peach Cosplay)
5. Quantum Destiny (DragonBall Z – Vegeta Cosplay)
Otaku House Cosplay Idol North America Category – Top 5 from Group G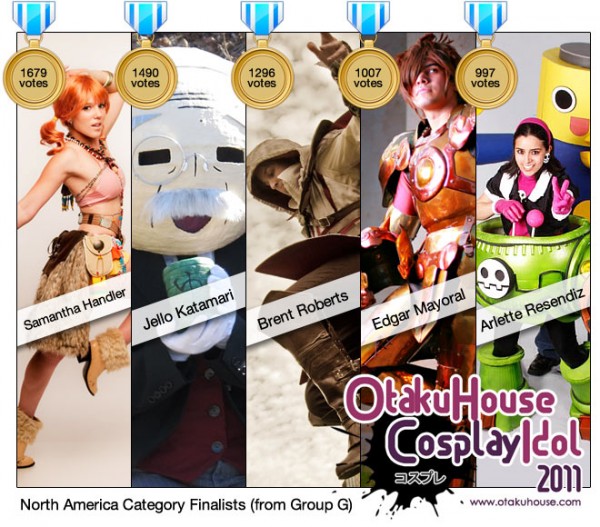 1. Samantha Handler (Final Fantasy XIII – Oerba Dia Vanille Cosplay)
2. Jello Katamari (Kuroshitsuji – Tanaka Cosplay)
3. Brent Roberts (Assassin's Creed II – Ezio Auditore da Firenze Cosplay)
4. Edgar Eduardo Mayoral a.k.a. Epsilon (Saint Seiya – Dokho Cosplay)
5. Arlette Resendiz (Megaman Legends and Marvel VS Capcom 2 – Miss Tron Bonne with Giga Servbot and the Green Gustaff Cosplay)
Otaku House Cosplay Idol North America Category – Top 5 from Group H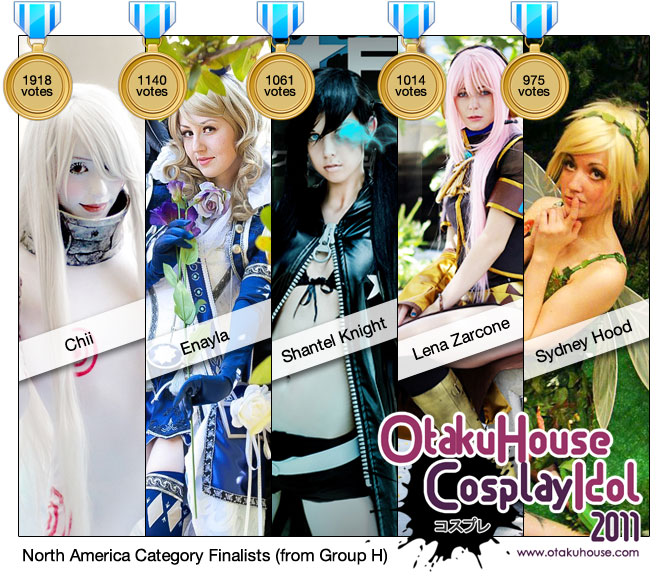 1. Christi Arredondo a.k.a. Chii>(Deadman Wonderland – Shiro Cosplay)
2. Enayla (Aion – Chanter Cosplay)
3.Shantel Knight (Black Rock Shooter – Bleack Rock Shooter Cosplay)
4. Lena Zarcone (Vocaloid – Megurine Luka Cosplay )
5. Sydney Hood (Peter Pan – Tinkerbell Cosplay )
To view all contestants, or to view the Finalists' entries in the Qualifier Round, click here for the Otaku House Cosplay Idol 2011 North American entries