Cosplayers Around the World Feature : Dria Umbra from USA
3. Which is your most difficult cosplay / most memorable cosplay and why?
My most difficult is one that I am working on now which is Diva Pavalaguna from the Fifth Element. It is taking a lot out of me I just hope I have it done for DragonCon this year! My most memorable cosplay would be easy for just about anyone to say is my Jenova from Final Fantasy 7. Not many people do this cosplay or do it accurately for that matter so I challenged myself. The headpeice was the biggest difficulty for my seeing I used real bolts and screws so in the end it was rather heavy and uncomfortable for long times. Even to this day though from the many floors of conventions I hear screams of "MOTHER" and people running to hug me. How they recognize me I am not sure.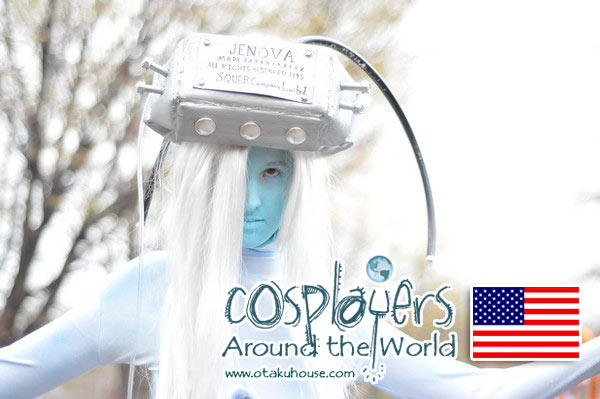 4. What is your next cosplay project?
Right now like I said I am working on Diva Pavalaguna, but the most frequently in the works are Major Motoko Kusanagi from Ghost in the Shell Solid State Society and Nariko from Heavenly Sword. I hope to have Major done by June for Metrocon and Heavenly Sword done for Play On Con.
5. Tell us about some memorable experiences in your costume making.
My most memorable while making my own costumes is me always forgetting to factor in how tall I am. I have a very long torso and while making a bodysuit or top I tend to mess up and have to make more then one. I am a crazy perfectionist though so no matter what it takes I will do what I have to to make it as accurate and realistic as possible.
6. What are some advice you would like to give to cosplay newbies?
There is no shame in starting with clothing alterations! I started by buying clothing from goodwill and making it what I needed. It is an easy way to learn to sew and it saves money from mistake in the first year or so of cosplaying.
Check out some of Dria Umbra's cosplay pictures here, including her Yaone cosplay she did when she was 14 years old!
More Dria Umbra's cosplay pictures
"You saw it here first, on Otaku House"