Cosplayers Around the World Feature : Meiji Greenie from Vietnam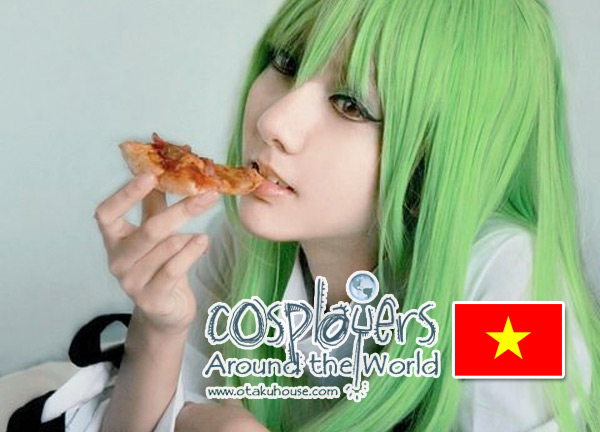 Beautiful cosplayer Meiji Greenie shares her experiences of her cosplay life in Vietnam in this issue of Cosplayers Around the World.
Meiji Greenie was a finalist in Otaku House Cosplay Idol 2011 contest. To join this year's contest or check out the contestants this year, go to cosplayidol.otakuhouse.com
*Contest currently open to North America category. Asia, Europe and Latin America will be open soon!

Meiji Greenie : "Hello everyone, I'm Meiji and I come from Vietnam. I'm studying at RMIT University. I'm really interested in Japanese culture, including Manga, Anime, Fashion and Cosplay. It's my pleasure to meet and make friends with cosplayers all around the world"
Biography
Cosplay Name : Meiji Greenie
Age : 19
Gender : Female
Country you are born in : Vietnam
Citizenship : Vietnamese
Date of Birth : May 8th 1992
Zodiac Sign : Taurus
Height : 158 cm
Lelouch or Suzaku? : Lelouch :"> He's a true hero, and he's definitely one of my most favorite male anime character.
Jiraiya or Tsunade? : Aw..I cannot choose exactly because love both of them…But if I have to pick, I will support Jiraiya-sama..Because he's so talented, so kind. He couldn't kill his enemy-his own student so he sacrificed himself for everyone T_T
Fave Anime? : Pokemon, Sailormoon, Rozen Maiden, Naruto, Code Geass, Higurashi no naku koro ni, Mahou Shoujo Madoka Magica, Fairy tail, Fullmetal Alchemist Brotherhood, Elfen Lied, Kuroshitsuji…etc…
More about Meiji Greenie
1. At what age did you start cosplaying and how long have you been cosplaying?
I started to know about cosplay in 2007 and started cosplaying in 2008, it has been 3 years now.

2. What inspired you to start cosplaying?
When I was a little girl, I've always wanted to be like the beautiful magical girls in Manga & Anime, such as: Sailormoon, Magic Knight Rayearth….When I attended a cosplay festival in 2007, all the cosplayers there were so awesome. I feel that it's like a great world for M and A lovers like me. So that's how I started in the cosplay community.

3. What are some difficulties you met in your cosplaying?
There are no cosplay shops in Vietnam, so it's a big challenge for me to find the materials and the right accessories for my costumes. Another difficulty is finding the suitable background for the cosplay photo shoots. We have limited backgrounds in Vietnam, so we usually take photos at some coffee shops but some of the shop owners don't allow us to do that.

View more cosplay photos from Meiji Greenie on the next page!