LASTEXILE –Fam, The Silver Wing– same day Simulcast as Japan!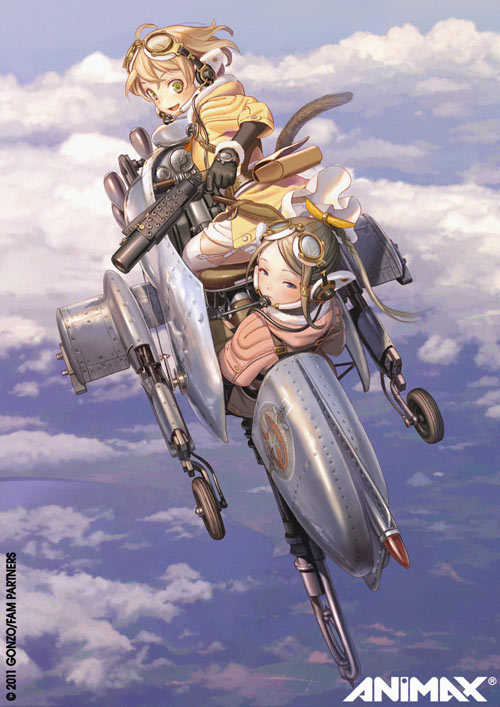 Anime fans should buckle up and sit tight for an adventure in the skies this October as Animax brings on one of Japan's fall anime season's top productions, LASTEXILE –Fam, The Silver Wing–, in an exclusive same-day-as-Japan simulcast!
LASTEXILE –Fam, The Silver Wing– is the fifth and latest anime TV series simulcast by Animax in the last two years. Animax made history in 2009 as the first TV network in the world to offer a same-time-as-Japan simulcast anime TV series, and followed that with three other anime series simulcast in the same week of the shows' premieres in Japan.
"Anime simulcasts are still such a rarity in television due to the huge investments, the large amount of preparations required for broadcast, as well as the great trust needed by business partners in Japan. As Asia's first channel specialising in anime, Animax is committed to making simulcasts possible, and to continue offering viewers this exciting privilege as we know it means the world for them to enjoy their favourite anime fast and nothing beats the experience of watching it on Animax, on TV," said Ricky Ow, General Manager & Senior Vice President, Networks, Asia, Sony Pictures Television.
Premiering 15 October 2011, LASTEXILE –Fam, The Silver Wing– airs Saturdays at 8pm (SG/MY/PH/SA/HK) and 10.30pm (TW), first and exclusively to Animax viewers in some 37 million households across 17 territories in Asia, within the same day of the Japanese debut. The series hails from Japan's Gonzo as a landmark production in celebration of the anime studio's 20th anniversary of founding.
Following the trailblazer that was Gonzo's 2003 hit LASTEXILE anime series, LASTEXILE –Fam, The Silver Wing– is a brand new series set to win over a new generation of fans, while reigniting the passion in lovers of the original fantasy-action series. With a brand new, original story and characters, viewers will be awed by new flying machines, magnificent air battles and powerful armies, back in the rich and memorable LASTEXILE universe.
LASTEXILE –Fam, The Silver Wing– : Synopsis
LASTEXILE –Fam, The Silver Wing– centres on 15 year old pilot, Fam Fan Fan in a compact 'Vespa' flying machine. As a member of the Sky Pirates, she and the other members make a living by hunting for battleships that they resell.
And when the Ades Federation declares war on the Turan Kingdom, Fam and her good friend Giselle, are caught in the conflict between the two factions. Striking a deal with the Turan Kingdom, the girls will have to save the nation's princesses from the Ades Federation siege, in exchange for Turan's flagship…
Also visit LastExile – Fam, The Silver Wing on Animax-Asia.com for more information on LASTEXILE –Fam, The Silver Wing–!