We are Otaku House. So do you think we should post Gangnam Style videos?
Given the tons of funny and fervent interactions on our Facebook, you may be forgiven to think running websites like Otaku House is as easy as eating a pie. You are right, except that occasionally we do get our fair share of problems, requests, complaints etc. and sometimes, we do not know how to solve them. This post highlights an example of a recent problem we face.
Gangnam Style in Cosplay Costumes
Someone sent us a link to the Oppan Gangnam Style video above wanting us to share with the Anime & Cosplay world. We think the cosplayers above look like they are having a hell of a time, but before we hit the share button, we want to hear your views. We are in a blind because we have previously received numerous warnings not to share any Korean related stuff if we are true anime and Japanese culture fans.
We have received lots of flak for posting Gangnam Style references and we want to know if we are offending lots of anime fans. If we are, I apologize for everyone responsible. I have attached screen caps from our Facebook to illustrate what I mean.

Arguments Against
1. The PM below was sent to us last Saturday.

We have hidden the profile out of respect because the message is sent to us privately. The sender wants us to stop anime characters dancing to the Gangnam Style. After reading her message, I (who am a 2D character as well) felt a little ashamed for betraying my fellow 2D comrades.
2. This status was posted on our wall 2 weeks ago.

Actually, Japanese definition of 'Otaku' means someone who is obsessed over something; anything. In any case, we are being screwed for (a lack of a better word) "un-Japanaising" the word Otaku.
There is more…
3. Some discussion over the One Piece meme we posted 2 weeks ago.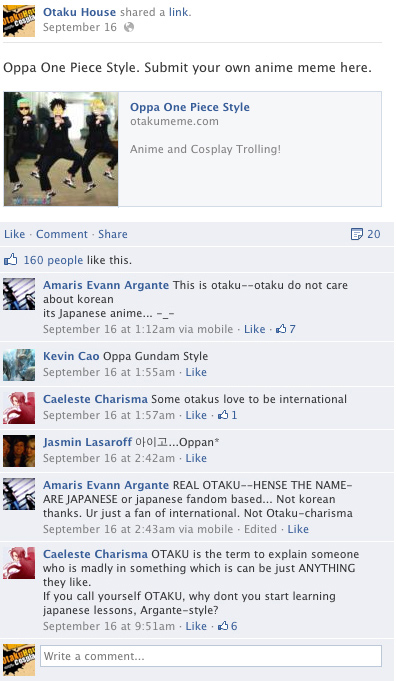 The status update "Otakus do not care about anything Korean" has 7 likes which means that there are many, many more people in agreement with not posting Gangnam Style videos. This also means that we should look at this issue closely and repent if necessary. We may be on the verge of filtering all unnecessary Korean stuff in anime, cosplay or manga references if the hate persists.
If our fan base mandates, we will obey.
Do you think we should post such videos?