Wolf Children Anime Movie Trailer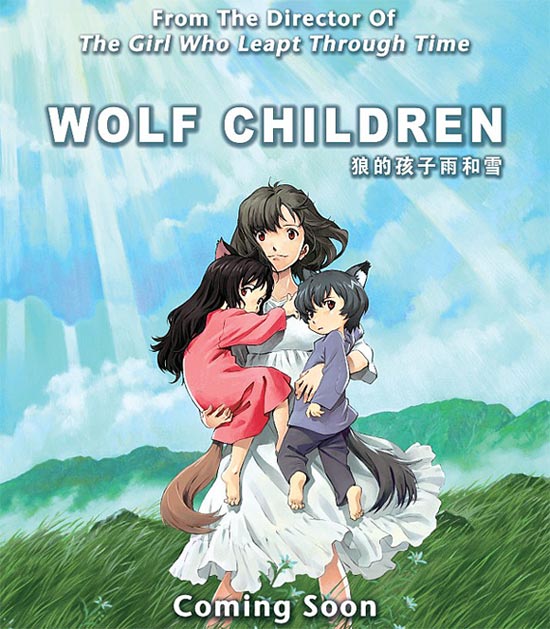 Wolf Children, the latest anime movie by Mamoru Hosoda director of "The Girl of Leapt Through Time" and "Summer Wars" is finally going up on screens next month!

Otaku House is giving away 5 pairs of season passes to this movie. Click here for details.

Official Wolf Children Move Trailer at the end of the post.
In "The Girl Who Leapt Through Time" (2006), Mamoru Hosoda depicted the radiance of youth in flashing moments of life. In "SUMMER WARS" (2009), he told a story about a miracle, of how the bond between people saved Earth's crisis, and the film swept awards domestic and abroad. Mamoru Hosoda has become the most noted animation director in the world. Why do his works appeal to people of all generations?
His stories are not about the extraordinary, and they are not about superheroes. Set in towns that could really exist, the main characters are surrounded by ordinary people and are troubled by slightly unique circumstances, which they struggle to overcome. Based on well-thought-out scenarios, these real-to-life stories are made into dynamic animation. That's why the main characters seem so familiar to us and draw our sympathy, and we get excited watching how they fare. Full of fantasy yet realistic. That indeed is the allure of Hosoda's works, which is also very apparent in his latest, "Wolf Children."
In this film, Director Hosoda tells a story about "a woman's growth through falling in love, marriage, childbirth, and child-raising" and "the children's discovery of their own ways of life and their steps toward independence." The 2-hour movie covers a period of 13 years, something achievable only in a work of animation. In the various scenes of life, what choices do parents and children make? In this fantastical tale, the "wolf children"—born between a "wolf man" and a human—are faced with this very real and universal theme that confronts us all. Doing what he does best, Director Hosoda has made "Wolf Children" into a piece of entertainment for people of all ages!
The main character, Hana, who has a fairy-tale romance with a "wolf man" and bears his children, is voiced by Aoi Miyazaki. The "wolf man," who accepts his extraordinary fate and lovingly watches over Hana and the children, is voiced by Takao Osawa. They are both big stars in the Japanese movie industry, but surprisingly, this is the first time they have worked together. It is also their first time in a Hosoda film, and after the first day in the recording studio, Director Hosoda couldn't help but say, "I've worked on this project for about three years, and I finally got to meet Hana and the wolf man today." Furthermore, Bunta Sugawara plays the role of Nirasaki, the old man who teaches farming to Hana when she moves to the countryside and its harsh natural environment, and the star-studded cast comprises actors from both the world of anime and live-action.
The screenplay was written by Satoko Okudera whose "REBIRTH" won the Best Screenplay Award in the 35th Japan Academy Prize. The characters were designed by Yoshiyuki Sadamoto, the popular designer of "Evangelion 1.0", "Evangelion 2.0" series. Following "The Girl Who Leapt Through Time" and "SUMMER WARS," the regular members of Hosoda's crew got back together again for "Wolf Children." The soundtrack was an amazing collaboration between Masakatsu Takagi, a world-renowned musician and video artist, and Ann Sally—doctor, singer, songwriter, and mother of two children—who performed the theme song. Moreover, a new animation studio, STUDIO CHIZU, was built for the filming of "Wolf Children." Hosoda films, which continue to pursue new possibilities in animation, venture into uncharted waters yet again.