Japanese Horror Film: Fatal Frame Trailer + Movie Tickets Giveaway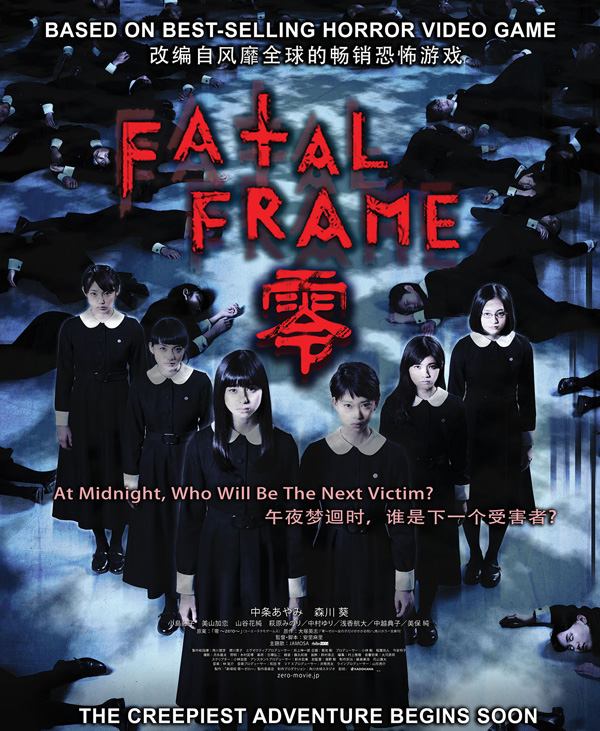 If you're a horror genre / game junkie, you must have played this horror game called 'Fatal Frame' (aka. Project Zero or Zero)? This is the most well-receive horror-survival console game to date and if you haven't checked it out… there is now a live-action show based on it!
And guess what, we're giving away free movie tickets to this show!

To win a pair of movie tickets to the Fatal Frame Preview Screening in Singapore (20 Oct), answer the following questions below:
Question: How do you banish a ghost in Fatal Frame?
(Hint: Answer in synopsis below)
Tell us the answer either:
1) In the comments below this page, or
2) On Otaku House Facebook under the relevant posting, or
3) Tweet at us (@myotakuhouse) on Twitter with hashtag #FatalFrameGiveaway
Deadline: 16 October
We will contact the winners for ticket collection details. Winners need to be physically in Singapore to watch the movie!
Fatal Frame Preview Screening (Singapore)
Date: 20 October 2014 (Monday)
Time: 9.15pm (Ticket collection begins at 8.15pm)
Venue: GV Plaza @ Plaza Singapura
Introduction and Synopsis
A live-action film adaptation of Fatal Frame (also known as Zero 零 or Project Zero), Tecmo's hit survival horror game that sold 1.3 million has materialized. The successful game is popular on all consoles including Playstation, Xbox, Wii and Nintendo 3D. The series plot deal with ghosts, exorcisms and dark rituals. Fatal Frame is one of the most well-received horror games to date. Ayami Nakajo and Aoi Morikawa, two popular models in the Japanese magazine Seventeen, are starring in this film opening throughout Japan this fall.

The original game follows a heroine who uses a Camera Obscura that can photograph spirits. She engages with spirits in a dilapidated Japanese-style house and other settings that gave the title (and its many follow-ups) a particular Japanese ambiance. What sets this game apart from other survival-horror games is that instead of running from the ghosts, you have to face your fears head on by taking pictures of them. The most powerful way to banish a ghost is to take a picture of it right before it tries to kill you, hence the name of the series, Fatal Frame. Fatal Frame is set to terrify everyone this fall.
Fatal Frame Movie Trailer