Assassination Classroom Movie 2: Graduation Edition COMING SOON!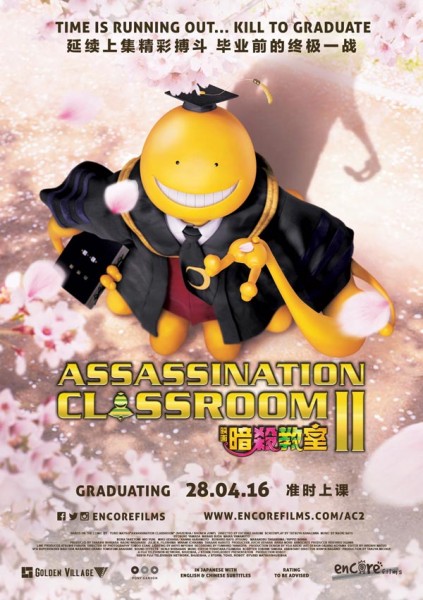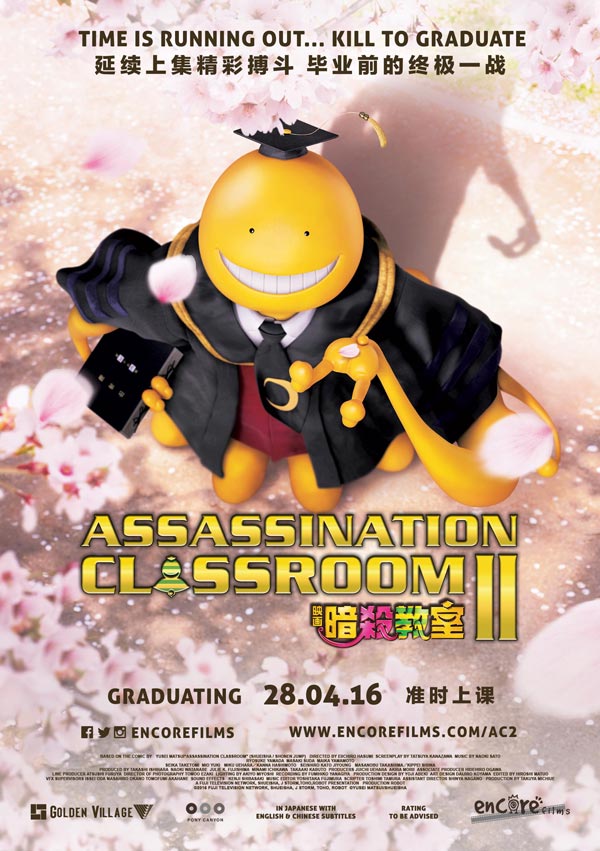 UT, also known as Koro-sensei, and Class 3-E are hitting the big screens once again! The exciting sequel to the live-action movie adaptation of the popular manga Assassination Classroom will be released on 28th April 2016!
Otaku House will be giving away FREE movie passes and movie memorabilia, so be sure to keep checking our Facebook and website for details on how to redeem these giveaways!



The second movie, Assassination Classroom: Graduation Edition, promises an interesting development of plot – the history and identity of UT will be uncovered, while Class 3-E faces the pressure of running out of time to assassinate UT.
For all you Koro-sensei fans who can't wait for the release, FRET NOT! There's a special advanced screening just for you! There will also be an opportunity for you to get up close and personal with the iconic UT! The details of the special fan screening are as follows:
Date: 23rd April 2016
Venue: Plaza Singapura GV Hall 7
Time: 4pm
Runtime: 118mins
Language: Japanese, with English & Chinese subtitles
Ticket Price: SGD$35
*includes one premiere ticket, limited edition Assassination Classroom Part 1 DVD and film poster. Totally worth it!
Hurry, get your tickets here before they are all sold out! Ticket buyers can meet take a selfie with the loveable Koro-sensei and collect the premiums at the booth outside the hall from 3pm to 3.45pm.
The cast from the first movie will also be reprising their roles in the Graduation edition, with Kazunari Ninomiya playing the role of God of Death and strongest assassin, Koro-sensei. The original manga artist, Yusei Matsui, has also collaborated closely with the production team on the setting and the screenplay. How will the story end? Be sure to catch the sequel in cinemas from 28th April onwards! Meanwhile, here's the official trailer and screenshots from the movie to tentacle you for more.. 😉