Skelanimal Qees Artist Series Two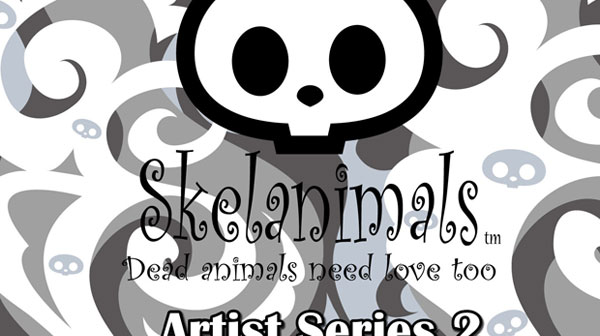 Being dead (hur hur), the Skelanimal Qees impresses again!
Following in the success of Series One with Chungkee and Marcy, this new assortment spotlights the Skelanimal characters Dax, Jack and Kit!
Skelanimal creator Mitchell Bernal and Toy2R has once again put together a collection of hot designs to reinterpret the
look and feel these cute little darlings (who happen to be dead) and present them on all new Qee figure platforms.
Series Two includes designs by designer other art toy favs – Voltaire, Lunabee, PO! (Patricio Oliver), Albert Art, Nick Z and Pocket Wookie.
Also included with this release is the classic B&W interpretations of Dax, Jack and Kit along with a couple of mystery chase figures. As always, each blind boxed Qee figure will include keychain attachment to carry your Skelanimal
wherever you wish.
Dropping later this year as part of the 10th Anniversary of Qee celebration, this new series will be unveiled during the NYC X QEE
Preview Party being held at Yoyamart in NYC on February 14th. Word has it that a Skelanimal artist (we don't know who yet) may be in attendance to reveal the series with a bang!
So get to Yoyamart on the 14th to get your first up close glimpse of the new series and see why Skelanimal Qees are darn cool!