Online Shopping Gone Wrong: Buyers Bought Figure Desks Instead?!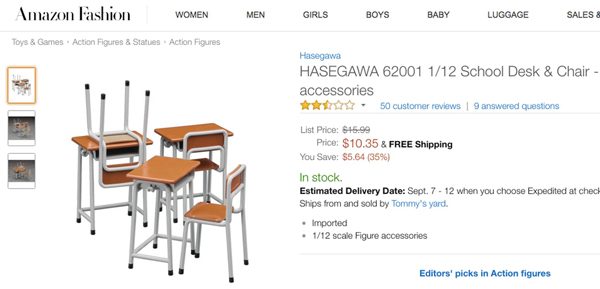 Prepare for a facepalm when reading this article! Well, 3 sets of desks and chairs for $10 sounds like an amazing deal, isn't it? However, when a deal sounds too good to be true, it probably is. Unfortunately, these Amazon buyers mistook the items as normal-sized and didn't realise that they were getting figure desks and chairs instead!
Yes! This actually happened! /facepalm/ 
The item, HASEGAWA 62001 1/12 School Desk & Chair – For Toy Figures is for sale on Amazon and is definitely a perfect figure accessory for your figma or even 1/12 scale figures! Truly a great item to create dioramas for figure photography  as well!
However, for those who are looking for normal-sized desks and chairs, this listing isn't for them! Due to that, this listing receives overwhelming responses from the angry buyers and based on their responses, they're certainly not really happy about the product!
Reviews from Buyers
Even though the description and FAQs stated all the information, it seems like these buyers actually failed to read the actual product dimensions – 22.3cm x 14.2cm x 4.6cm before checking out the items and sadly, ended up with a small furniture! /more facepalm/
So just a heads up for the readers, please read all the information before you purchase anything online! You don't want to end up in such an epic mess!