Event Spotlight: Ikasucon's 9th Year Ends with a Song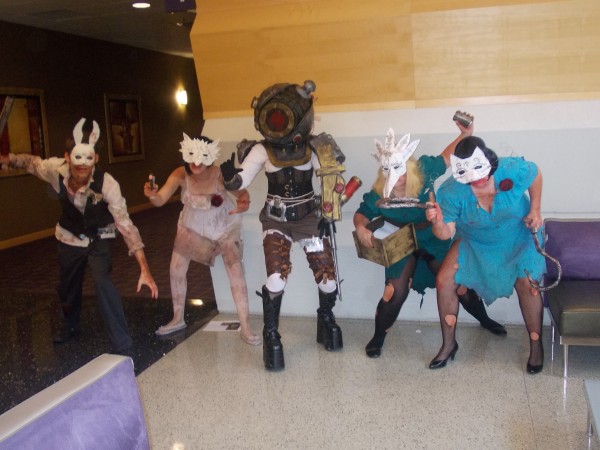 "And I would have gotten away with it too, if it weren't for you meddling kids!" shouted Game-show Host Dusty Riley, as he was tackled to the ground by con-goers. In the hand of a Grell-cosplayer, the poisoned box of pocky was held towards the audience and away from its intended target: voice actor, comic artist, and animator Sonny Strait.
For those of you playing Ikasucon's Live-Action Clue, it was indeed Dustin Riley, with the poison pocky, at Closing Ceremonies.
Live-Action Clue
Live-Action Clue was just one of the many events offered at this year's Ikascuon, which ran from Friday July 8 through Sunday July 10. Highlights included the 100 Nations Ball; autograph sessions with the Sonny Strait, Erik Stuart, and Blake Shepard; Cosplay Chess, Whose Line is it Anime, the Ikasucon Rave, Warky the Chocobo Piano Concert, and a whole plethora of game shows.
And, of course, the Cosplay Masquerade.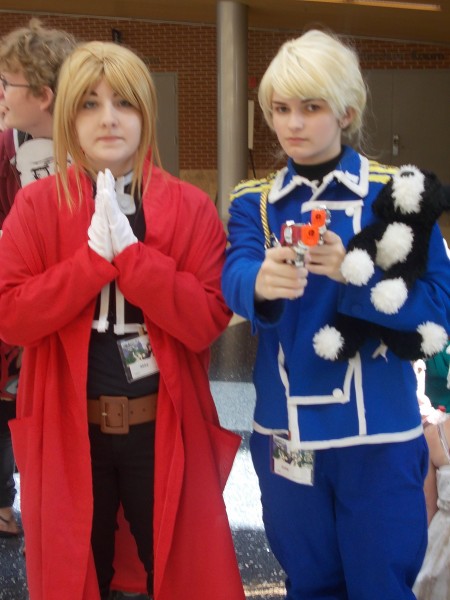 Despite the slightly lower turnout to Ikasucon this year—only about 1,300 people could make it— the Cosplay Masquerade turned out to be a fierce and delightfully well done competition. Approximately 50 cosplayers showed off their handmade costumes, and four groups did skits. The Judges award winners were a Toph who had a really hard time seeing, a Momiji who was too cute for words, a whole Vocaliod group who looked right out of the pictures, and a Princess Zelda who had made her own Ocarina…and played it too!
Novice Craftsmanship
Novice Craftsmanship went to the Guts cosplayer, who did all the poses of his character and made the crowd roar with laughter. The judges then explained that his armor war real, AND handmade.
Journeyman
Journeyman went to Mima from Perfect Blue, with her gown that fit her like a glove—18 pieces of boning in the corset and all. For those who saw her, there was no mistaking her character. The resemblance was frightening.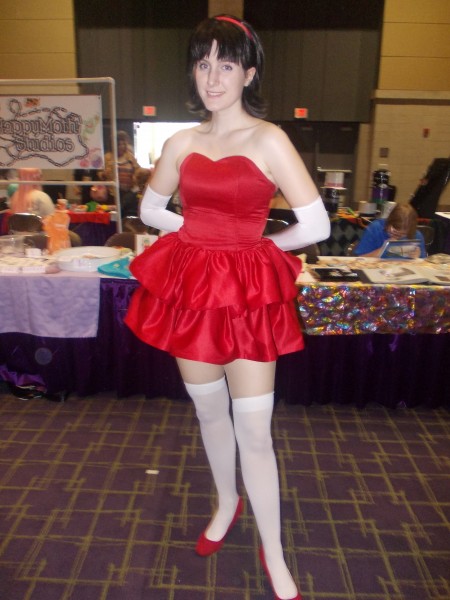 Best Skit
Best Skit went to a set of twins cosplaying as Chii and Freya from Chobits. Their heartwarming skit "What Big Sisters' Are For" had the judges—and half the audience—in tears.
Bioshock II
And, last but not least, best in show went to a group of five. The Splicers and Big Sister from Bioshock II stunned the audience with their in-character performance and completely hand-made outfits—from the Big Sister's helmet down to her 8 inch platform shoes. The Splicers—covered in dirt and mud—dragged their charge on stage to accept the trophy to the sounds of a standing ovation.
There was something for everyone to do at this year's Con. Although the low turnout was a bit of a setback, Con Staff remained optimistic, albeit sleep-deprived, by the closing ceremonies. In honor of con-goer requests, the last bit of business was for the staff, guests, and attendees to all dance the Time Warp. With Sonny Strait and half the staff singing, everyone did just that.
Next year is Ikasu's 10th anniversary, and Con Staff promises for it to be the best. "All precedents will be smashed!" they declare.
Join us, July 13-15 2012 in Fort Wayne Indiana, for the best Ikascon yet!
* This article is submitted by Jynx Tsilevon who is an external blogger who is not affiliated to Otaku House. His views and opinons are entirely his own. To contribute articles or cover events for Otaku House, email us at iwanttoblog[@]otakuhouse.com.