Ikasucon 2011– Meet the Vendors!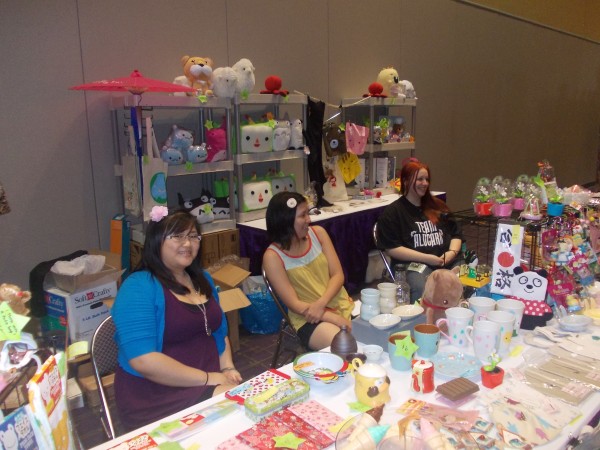 Face it—everyone has downtime at a Con. Well, except for maybe the staff. It's in that down time that most con-goers gravitate to the staple of any Con: Vendors Hall/Artist's Alley.
For me, the people make the Con, and at Ikasucon (held this year 8-10 July at Grand Wayne Convention Center in Fort Wayne, Indiana), sometimes the most interesting people are the vendors themselves. From the Steampunk artist in front to the purveyors of the cute-and-fluffy in the back, each vendor has a story to tell, an attitude all their own, and a life lesson mixed in with their wares.
My good fortune at Ikasucon 2011
My good fortune included the privilege of meeting all of the vendors, and learning a little about them. The experience helped make this Ikasucon one of my favorites. As the interviewer, I chose to bring out the stories of those who handmade what they sold—like the members of the Cosplay Masquerade, I felt as if these vendors, artists, and writers needed some kind of reward for all the love, sweat, and tears they put into their craft.
So, without further ado bring you the Vendors of Ikasucon 2011.
The King's Crown
Travis King and his fiancée Brittany are the co-owners of this wonderful Steampunk jewelry store. This was Mr. King's first time as a vendor at Ikasucon, but it was his second time attending the con. Brittany one-up'd him by telling me she'd been to Ikasu four or five times, but this was also her first time as a vendor.
The two really showed their love for Steampunk, confiding in me that they have planned a steampunk wedding in October. It took me a moment to stop teeing with playful envy and continue the interview.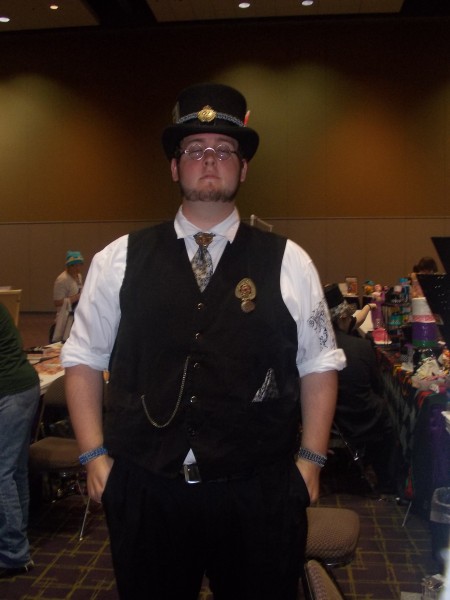 Mr. King makes all of his jewelry out of mostly handmade parts. Some basic materials he has to buy, of course, to make his superb pieces. He's only been making the jewelry for 2 months, he says, but already he has made a mark on the Steampunk society.
Mr. King's parting words to me were "Full Steam Ahead!" while Brittany's were "Live Long and Program."
Keep your eyes out for them at Cons and on the Web!
Ashley Sanders
Ashley was one of the artists in Vendor's Hall. On display she had one full color sketchbook, three pencil sketchbooks, and a wall full of buttons and stickers. Everything was drawn, colored, and made by her. Or, as her business card says, "She draws for you!"
She was also the artist behind this year's Ikauscon T-shirt.
I had the joy of spending a lot of time with Ashley because, besides selling her prints, stickers, and buttons, she was an Artist-for-Hire during the weekend. Her commissions were wonderfully done. One of her commissions made my friend cry.
Ashley started drawing in 2000, and started selling her drawings and artwork in 2004. She was a frequent Ikasucon-goer since its start in Cincinnati, but she has had to take a break to go to college. She's just now getting back into the con-and-artist life after getting her degrees.
Ashley says she loves cats, Bulbasaurs, and food, and when asked for a parting statement for the readers, she shouted: "I love you!"
I can't wait to see her next year!
Find her art and commission prices here: www.travelingorange.com
CritterCre8r
Ms. Rebecca is the wonderful mind behind this wonderful little store. It caught my eye instantly when I saw a hand knitted Companion Cube just sitting on the table.
Yeah, that's right. Rebecca knits and crochets all of her work, from scarves to video game characters. Her table was covered in knitted and crocheted Yoshis, Kirbys, and every Super Mario Mushroom type known to gamers (Her poison mushroom is her most popular item, she told me, because most people buy it and then proceed to throw it at people).
All of her pieces take a minimum of two hours. My first thought: This takes dedication.
And that Companion Cube I saw? Well, it's her least favorite thing to do.
Rebecca first visited Ikasucon two years ago and is back again, hopefully to stay this time.
Visit CritterCre8r at She does commissions!
StarCrunch Accessories
Max and her mother Eve hosted this table sporting hand-crocheted hats. They had everything from foxes to unicorns made as beanies. And yes, there was even a dinosaur hat (I would know, I bought one!). Max is the mind (and hands) behind the hats, and was happy to smile for the camera.
Max was happy enough to do custom-color commissions on her hats, which she told me take anywhere from a half an hour to 2 hours, depending on the hat. Hats with earflaps take the longest…and they aren't Max's favorite things to do. With her wide assortment of colors and styles, she could make a hat that was right for anyone.
This was Max and Eve's first time at Ikasucon, but they're not new to the Con scene. They make a goal to go to two Cons a month. They did like Fort Wayne, however, and from the amount of their hats I saw bobbing around the con, I have to say Fort Wayne liked them back.
Max's statement to me for the readers was that she is "coloring their world."
Visit her at StarCrunch Accessories
Cheebecaps
Kryston Skinner sat with hundreds of bottle caps in front of her when I approached with my camera and folder and asked for an interview. As the owner and maker of all of her "Cheebecaps," I had to know what she had to say.
Kryston has been making her bottle-cap pins and magnets since November of 2010. It takes her about two days to complete a cap, plus time for drying, and each bottle-cap is unique. No picture is used twice. And her bottle-cap bases come from all sorts of bottles. She confessed to being a bit of a partier, but the lifestyle does help support her business.
Ikasu was Kryston's second con, with the other being Summit City Con, and she's not sure if she'll be back to join us next year.
If you, like Kryston, think "bottle-caps are cool!" then be sure to visit her at her facebook page
Gears & Lace
Ms. Cryssi, and her table mate Athena (see below) have been a staple to the Ikasucon Vendor's hall. She's been coming back since 2006, which was one year after she started setting up in various Artist Alleys. She's been sewing and creating her own wares since 2008.
Cryssi's motto is reduce-reuse-recycle, and all of her jewelry and pins were made of scrap fabric and pins. She also does drawings, commissions, steampunk accessories, and even costume commissions.
As a Cosplay Judge, perfection is her goal. She knows what she's talking about and will put in as much effort and time as needed for each of her creations.
She would like to remind everyone that "the cake is a lie."
Make sure to drop by and take a look at Cryssi of Gears and Lace.
Athena's Gems
I hate to make a personal plug, but Athena is my go-to woman for Steampunk and Cosplay Jewelry. She's an amazing —if not quirky—woman, and a joy to be around.
And she's the closest thing to an expert jeweler if I've ever met one.
Athena (yeah, that's her legal name) has been making jewelry since college, some 12 to 13 years now. Or, as she helpfully told me, "longer than some of the con-goers have been alive." Her first con was in 2004, and she started going to Ikasucon in 2006, the last year it was in Cincinnati, Ohio.
Athena is wonderful to her costumers. She backs everything she makes, and makes sure everyone gets her email just in case anything goes wrong. She will special order parts to custom fit her clients' needs. She made a clasp for me for a necklace while we were talking.
She's every cosplayer's dream helper—she made my friend a set of earrings on short notice to finish up a costume. My friend ended up winning, and one of the judges complemented her on the earrings. Athena was so happy.
Her favorite pieces to make include the piece she made for my friend: earrings for Belldandy cosplayers and Athena's own handmade rings.
A personal plug and opinion again, but Athena's jewelry is amazing. I buy something from her every time I see her simply because I'm so impressed with the quality and love all of her pieces.
If you can, I recommend meeting Athena in person. She's the type of person who can brighten anyone's day just by her personality. But make sure to visit her at Athena and her gems and say hello.
Things from Rings
On the right side of the vendor hall, there was a scary booth with lots of chainmail. Okay, just kidding, it wasn't scary at all. It was kind of shocking.
When I went over to talk to Dave, Judy, and Nikki of Things from Rings, it was after much hesitation because I was worried about touching anything. It was all so…shiny.
Judy was working when I came over to interview, but she was happy to talk while she worked.
She's been with Things from Rings for 25 years, custom making chainmail with a copywrited technique. Every piece is handmade from start to finish—the chainmail starts as wire that they custom order. No other store can order it, in fact.
Judy and her store have been going to Cons for six years now, and Ikasucon is their only Anime-only con. There isn't a venue they won't visit. Things from Rings was probably the most nationally known vendor in the hall.
Judy held a panel at Ikasu teaching con-goers how to make their very own bracelets. I regret missing the panel.
Her pieces require at least 12 hours each, and some can take up to two years to make.
Judy says that Things from Rings spoils their customers, and will do anything for them. Each piece comes with a lifetime warranty, and they stand behind all their products.
Check them out at www.things-from-rings.com
Tangent Artists
This is another booth I had trouble approaching, but it was only because they had a drawing of a Stone Angel from Doctor Who guarding the place. It terrified me.
Only after they promised it wasn't after me did I come over and talk to them. And let me tell you, I was happy I did.
I met Monica Marier, Indy Adenan, and Rachael Hixon, three girls apart of Tangent Artists, the "purveyors of fine webcomics," or, as I called them, the "conglomeration of awesome people."
Monica was the one who did most of the answering for my interview, with the other women watching over us and cracking jokes. I have to say, next to Athena's and Ashley's interviews, I loved talking to these girls.
Tangent Artists was started in 2006, after the girls and the others met in 2005. They began going to cons in 2008, with Anime USA. This was their first year at Ikasucon, and they were happy to tell me that they actually prefer smaller cons. According to Monica, "it's more relaxed and easier to reach the fans."
Tangent Artists pride themselves on their weekly updates for the webcomics. The three they were advertising at Ikasu were Crit, Skeleton Crew, and Donuts for Looking. They promised me that they aren't going anywhere, and will continue updating every week for as long as they can.
Monica was the woman who designed this year's badges, and she recently published a book, Must Love Dragons, which she had on sale at the Con. She has another steampunk novel coming out next year. As an inspiring author, I immediately asked her for advice.
"Don't be afraid to make mistakes," she told me, grinning like Peter Pan in her steampunk hat. "Get it out. Perfection is not an option!"
Indy and Rachael repeated her last statement, and I nodded.
Please, check this stuff out at www.tangentartists.com
Lovezutto
There was a kawaii shop in the back right corner of the hall. At first, I didn't think to interview them because most of their wares were imported. However, their plushies and scarves were handmade, and they were nice, so I swept in for the scoop.
The shopkeepers were Judy, Melaine, and Nikki, who have been working together for 10 years, but only have been Lovezutto for 5 years. They got their humble beginnings working for other vendors at the young ages of 13 through 15, before setting out on their own.
These girls love all that is cute and fluffy, especially stuff with faces, and they set out to spread the cute. And their plushies are just that: Cute and fluffy. I could not stop hugging mine. That action alone made their day.
This was Lovezutto's first time at Ikasucon. In fact, it was their first time in Indiana. When I apologized about the amount of cornfields, they all laughed and said they understood—they come from Illinois.
Their advice to everyone? To quote a badly translated Japanese phrase: "Do not need to hold out, just never give up!"
I must extend my thanks to all the vendors who took the time to answer my questions. Thank you guys!
* This article is submitted by Jynx Tsilevon who is an external blogger who is not affiliated to Otaku House. Her views and opinons are entirely his own. To contribute articles or cover events for Otaku House, email us at iwanttoblog[@]otakuhouse.com.