GANTZ Singapore Cosplay Party at Heeren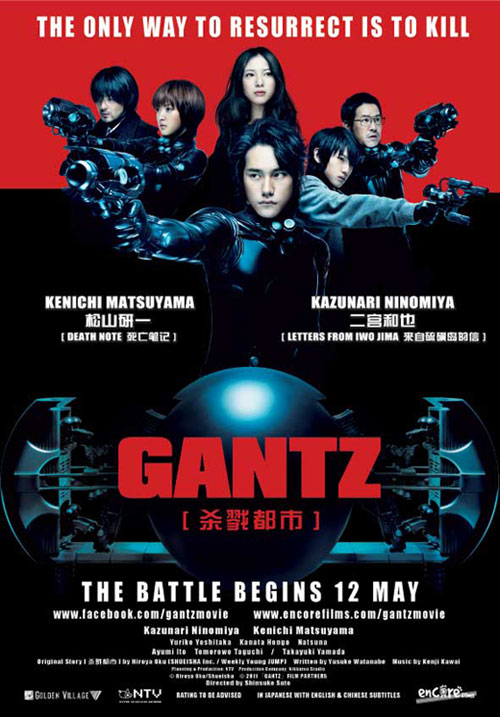 On collaboration with Encore Films, Otaku House is the event partner for the GANTZ Cosplay event at Heeren on 8th May 2011.
GANTZ is the most anticipated Japanese live-action blockbuster, after DEATH NOTE!
From the studio that brought the "Death Note" series, GANTZ is a new exciting action-packed movie project based on popular manga, with three of Japan's hottest stars of the moment – Kenichi Matsuyama ("L" in Death Note), Kazunari Ninomiya (leading member of Japanese boyband ARASHI) and Yuriko Yoshitaka (Tokyo Dogs). This mega project that spanned approximately six months of shooting and close to a year in post-production will be released in two parts. GANTZ 1 opens on 12 May 2011 in Singapore.
GANTZ Launch Party at Heeren
To welcome the showing of GANTZ in Singapore (finally), Encore Films is launching a cosplay party with Otaku House as the event parter at Heeren this Sunday. Head down to the party to get freebies and for a swell time! (*You do not need to take part in the Cosplay Contest to participate in the launch party)
Date: 8th May 2011 (Sunday)
Time: 5pm
Venue: The Heeren Level 1, Fountain Stage
Co-Sponsor: Otaku House
GANTZ Cosplay Contest
Stand to WIN more than $1000 worth of cash and prizes!
Please send in a photo of yourself in any cosplay outfit with your name and contact number to [email protected] to participate in the GANTZ COSPLAY PARTY Contest.
Contestants will be selected to compete in our finals on 8 May 2011 during the GANTZ launch event! More details at http://www.facebook.com/gantzmovie
Closing date for contest: 6 May 2011
Top 3 Prizes:
1st Prize ($300 CASH + GANTZ Hamper)
2nd Prize ($200 CASH + GANTZ Hamper)
3rd Prize ($100 CASH + GANTZ Hamper)
Movie Synopsis
College Student Kurono (Kazunari Ninomiya) witnesses his childhood friend Kato (Kenichi Matsuyama) attempting to help a drunk who has fallen onto the subway train tracks and spontaneously jumps in to help him. However, both are run down by the oncoming train…In the next instant, they find themselves transported to a strange apartment with other people who should also be dead. In the center of this room, is a strange black orb known as "GANTZ." GANTZ enlists each of them on a mission to hunt down and exterminate "aliens," providing them with fighting suits and weapons. Is this world a game or reality?