Comic-Con Adelaide 2012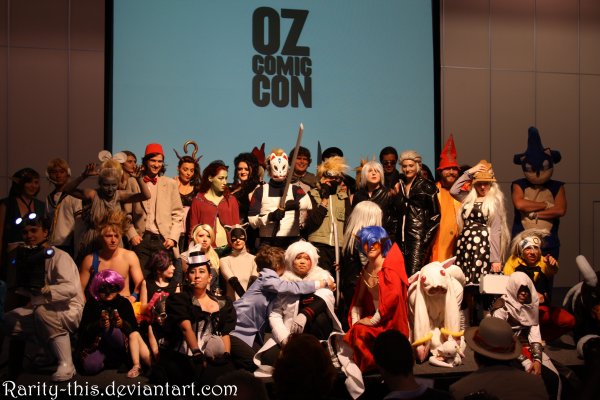 March 31st saw the first Comic-con on Australian shores. This convention has a glorious reputation over in America and admittedly I didn't hold out that it was going to be a strong convention being held in Adelaide, however I was thoroughly wrong.
Lots of Shopping!
The venders were fantastic, much shopping was done. The staff were helpful and informative, the guest stars gracious and entertaining and the venue lovely.
Held at the Adelaide Royal Show Grounds, there was room for shopping, space to breathe outside when the crowds packed in and even an area safe for cosplayers with the more extravagant cosplays.
Saturday had huge lines just to get in, a wait of nearly 90 minutes, but prepaid was almost a straight walk in the door, so I really recommend getting your tickets posted out.
The cosplay was a parade, with a 1st, 2nd and 3rd placing with Spotlight gift vouchers up for grabs. As a cosplayer I was curious as to the judging criteria at all conventions and this one was no exception.  Here they are looking more at the "play" in cosplay. It was about character portrayal and wow factor rather than technicality. The judges were from outside of the main cosplay community and have knowledge of sewing and theatre.
Results for Saturday were
1st Alice Madness Group
2nd Loki
3rd Kaylee – Firefly
On the Sunday things were still packed!
The guest lines were still long and for the hard-core fans, a VIP pass is the way to go.
The cosplay on the Sunday was split into the following
Best comic or book cosplayer
Best anime or manga cosplayer
Best film or TV cosplayer
Best video game cosplayer
Best performance
Again the focus was on the "play" aspect and Adelaide did not fail to produce some amazing cosplays!
Cosplay Winners
Comic/book: Ridder and Penguin girls
Manga/anime: Madoka
Film/TV: Arwen
Video Game:  Houndoom
Performance: Rainbow Dash.
Group: FFVII Team
Honourable Mention: Squirtle
Cutest Cosplay: Monster High Girls
IInet then threw in a surprise, giving the Kadaj cosplayer a bonus award for over all best cosplayer, a spot in the Competition for Australia's Top Geek.
After the last cosplayer headed outside and the sellers closed their stalls I was left finding myself very impressed with Oz Comic-con and look forward to what they offer up in Melbourne.
* This article is submitted by an external blogger who is not affiliated to Otaku House. The author's views and opinons are entirely his/her own. To contribute articles or cover events for Otaku House, email us at iwanttoblog[@]otakuhouse.com.