Ani Mini Con Review: A chibi con in New York City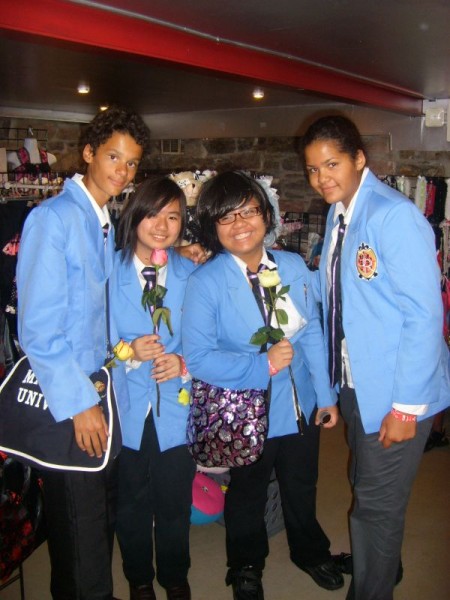 Ani Mini Con has proven that great things really do come in small packages. The chibi convention took over the second week of August with three days of art, music and most importantly lots of anime. Friday started out with the screening of Chocolate Underground and a cosplay reception. While on Saturday, attendees enjoyed cosplay art by Stephen Tang and guest speakers Lizbeth Jimenez and Brian Mah. After a short break the gallery was turned into a music venue where artists like NoirceuR and The Asterplace performed; and even the Con's own president played her violin to various anime clips.
Heavy Rains but Unstoppable
As New York City struggled with heavy rains and floods on Sunday, Ani Mini Con came to an end with a relaxing tea party along with the screening of Black Butler and the live action Ouran Highschool Host Club. Guests were turned down all weekend as the small Gallery for Digital Art was filled to capacity with anime and cosplay fanatics, which is a remarkable turnout for a convention that is only a year old.
Ani Mini Con started as an idea for a concert…
What started out as an idea for a concert featuring classical music in anime has grown into a full-blown convention. Organizers Alexandra Honigsberg and Kim Kindya have already established a large following in the anime and convention industry so it was only natural that they would start up Ani Mini Con. The gathering has caught the attention of big companies such as Funimation and Forbidden Planet, who sponsored the event with screenings and goodie bags. Even the dealer's room has grown over the year with the addition of three more booths.
Ani Mini Con has a Personal Atmosphere
Unlike bigger conventions, Ani Mini Con has a very personal and warm atmosphere. It felt more like a hang out between anime loving friends instead of a large gathering of strangers. It is also one of the only conventions where you can sit down with the organizers and have tea served in beautiful antique cups. The artisan tea has become a tradition at Ani Mini Con thanks to the Harney Tea Company, who has sponsored the convention since its inception.
American Host Club
Alexandra, a professor at St. Johns University, and Kim, the director of the Gallery for Digital Art, met 20 years ago at Luna Con and have been close friends ever since. Ani Mini Con is only one of many achievements for these anime entrepreneurs. The two ladies also started the only successful Host Club in the United States. After a mostly female turnout at one of their Comic Con panels it was clear to Alex and Kim that these types of events were lacking a male presence. After only one year the SOHO Host Club has gained eight members and entertained at countless panels and parties. While most critics were doubtful of a successful American Host Club, Alex and Kim never gave up and have proven that there is a demand for hosts here in the US. The members vary between the ages of 19 to 32 years old and go through a rigorous background check and training. Besides being a very diverse group, each host possesses a unique talent as well, such as singing and dancing.
At Ani Mini Con the Host Club was the life of the party. They kept the crowd laughing and made sure no one felt left out. The boys seamlessly moved about the room striking conversation with everyone and posed for group photos as a crowd of giggling girls snapped away with their cameras. The Host Club will be making an appearance at NY Comic Con this fall. Alex and Kim have no desire to make Ani Mini Con bigger in the next few years due to costs and mostly because the Soho Gallery for Digital Art has become their home. So attendees can look forward to the same fun and friendly atmosphere every year. For more information on both the Ani Mini Con and SOHO Host Club please visit their facebook pages for the most up to date news and events.
* This article is submitted by an external blogger who is not affiliated to Otaku House. The author's views and opinons are entirely his/her own. To contribute articles or cover events for Otaku House, email us at iwanttoblog[@]otakuhouse.com.