Pretty K-On! Cosplay Girls "Not Lazy"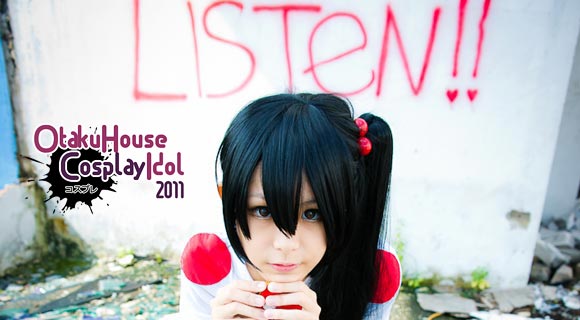 The Otaku House Cosplay Idol Asia category gets intense as the K-On! girls (Kei-on) show you their "Pure Pure Heart" and battle it out! If you like them, then "Listen!!" to me : "Don't Say Lazy" and start voting!
Tsukuyo digs through the album and lists out her favorite K-On! Cosplayers here :

1. Hirasawa Yui. The main girl of the show is the ditzy lead guitar player in the light music club. Yui is the type who lacks the ability to walk without falling down. Hey, some people dig that.
Singapore Cosplayer Yivon cosplays as… wait where's Yivon? All I see is Hirasawa Yui! In my opinion, this is as perfect a cosplay of the spacey lead guitarist as it can get; right down to her sincere clumsy smile and compromising bright eyes.
2. Akiyama Mio. The left-handed bassist plays no second fiddle to Yui. Infact, Akiyama Mio may be alot of Otaku boys' sole reason for fiercely thumping the K-On! badge to their chest in unwavering loyalty. And who wouldn't fall in love with this lovable babe. Thus, as expected, Mio is a popular choice to cosplay as. Tsukuyo lists our 3 Akiyama Mio cosplayers below.
Singapore Cosplayer QiQi shows you her "Love" in this "Don't Say Lazy" gothic lolita version.
Malaysia Cosplayer Yuki looks all demure in this Akiyama Mio "Listen!!" cosplay version.
Singapore Cosplayer Serene Teo chooses to don the girls' winter school uniform to portray the Mio which she feels an affinity for.
3. Tainaka Ritsu. Ritsu is Mio's best friend and you can say she's the founder of the Kei-on club. In a way, her crazy antics is one of the main draws of the show.
Singapore Cosplayer Caitlin Sison chooses to portray her Tainaka Ritsu cosplay in her "Don't Say Lazy" outfit.
4. Nakano Azusa. The youngest of the team and arguably the cutest. Even with her cat ears on and going "nyahh" you just can't get enough of Azu-nyan!
Malaysia Cosplayer Xsaye Ng's Nakano Azusa Listen cosplay looks so adorable you want to reach out and give her some huggies.
Singapore Cosplayer Shiori, likewise, looks as cute as you'd expect of Azusa. All she's missing is her pair of neko-mimi (cat ears) and she'll be perfect.
Yes, Mugi is missing, isn't her? Oh well, I'll just have to update this page again if a Mugi cosplayer turns up in the Otaku House Cosplay Idol Asia & Australia Category.
Click here to view the entire Asia gallery and vote for your favorite cosplayer.
If you'd like to join the competition, click here for more information on application details.