Official Winners of Otaku House Cosplay Idol 2013!
The Champions
Here we are, fellow otakus, just ahead are the winners of Cosplay Idol in their regions! They might have stayed up for many nights on end just to create a costume so that they won't lose inspiration. They might have an easier time making the costume but spent many frustrating hours on a minor detail on a prop. They might have been so natural at it that they got the expression right the first time, or they might not. But what we know for sure is that they are right here, at the summit of their journey. They are the undisputed champions of Cosplay Idol 2013! Congratulations!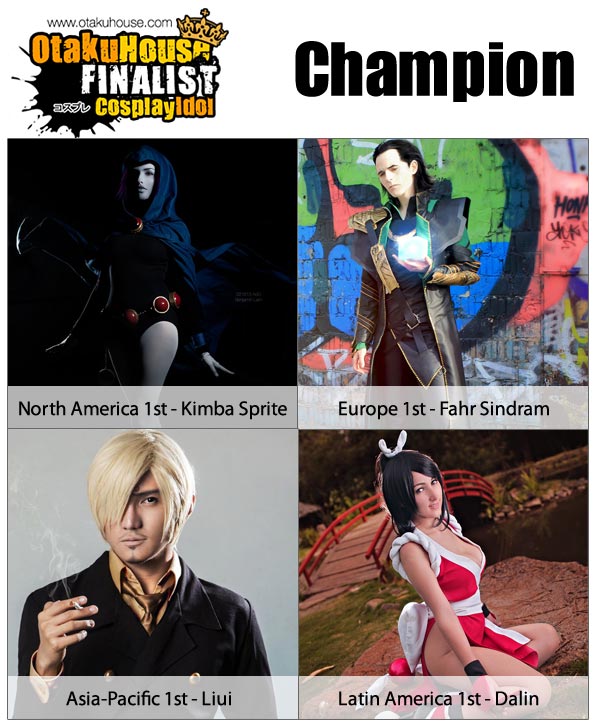 North America – Kimba Sprite from Sacramento, CA, USA
Europe – Fahr Sindram from Berlin, Germany
Asia-Pacific – Liui from Manila, Phillipines
Latin America – Dalin from Mexico City, Mexico
What a smashing year 2013 has been for all of us! Whether you participated or voted, or even if you were a spectator, we hope that everyone had as much fun as us. To the cosplayers and future cosplayers, if there were none of you, Cosplay Idol would not have existed. To the voters and supporters of Otaku House and Cosplay Idol, we owe most of our successes to you. The journey up to the end of the contest had been thrilling and exciting, with new and better cosplays each year. We also see more cosplayers and more exposure which heightens the experience gained. Lastly, to mark the end of Cosplay Idol 2013, thank you all from the top through the bottom and then back up again of our otaku hearts!