OFFICIAL! Otaku House Cosplay Idol 2011 – Asia / Australia Finalists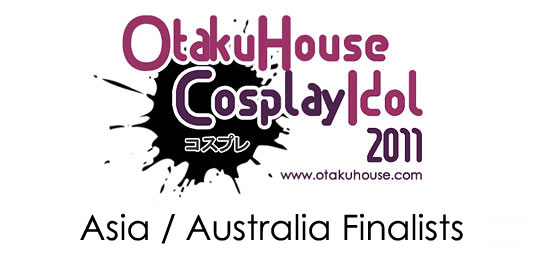 The wait… is finally… over! I now hereby unveil the official Top 36 Finalists for the inaugural Otaku House Cosplay Idol 2011! Since there was a tie in one of the groups, we decided to choose the Top 6 instead of Top 5 for this category. Anyway, the more the merrier right!
If you missed joining the Qualifiers, you can still send us your pictures to be showcased for exposure and feedback. Click here for details of the Otaku House Cosplay Idol Showcase!
It's tough work to have to choose just 6 from each album of awesome cosplayers, but here we go; your choices, your finalists.
Finals will start officially October 2011. (We are upgrading servers hence the slight delay.)
And now, let's take a look at who made it to the Top!
Otaku House Cosplay Idol Asia Category – Top 6 from Group A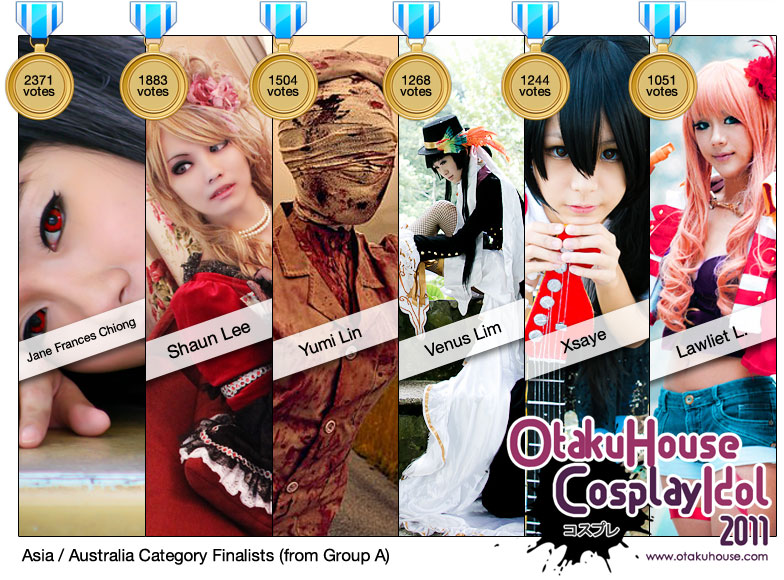 1. Jane Frances Chiong (Jigoku Shoujo – Enma Ai Cosplay)
2. Shaun Lee a.k.a. Shirae (Versailles Cosplay)
3. Yumi Lin (Silent Hill – Nurse Cosplay)
4. Venus Lim (xxxHolic – Ichihara Yuuko Cosplay)
5. Xsaye Ng (K-On! – Nakano Azusa Cosplay)
6. Lawliet L. (Macross Frontier – Sheryl Nome Cosplay)
Otaku House Cosplay Idol Asia Category – Top 6 from Group B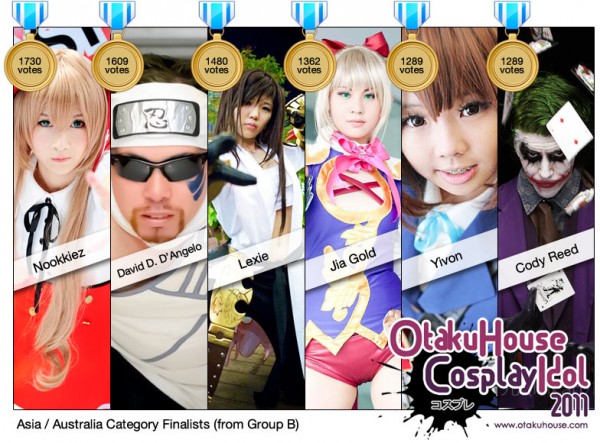 1. Nookkiez (Maiyoi Neko Overran – Fumino Serizawa Cosplay)
2. David D. D'Angelo (Naruto – Killer Bee Cosplay)
3. Lexie (Ragnarok Online – Shura Cosplay)
4. Jia Gold Bustamante (Soul Calibur : Broken Destiny – Cassandra Alexandra Cosplay)
5.*tie Yivon (K-On! – Hirasawa Yui Cosplay)
5. *tie Cody Reed (Batman – Joker Cosplay)
Otaku House Cosplay Idol Asia Category – Top 6 from Group C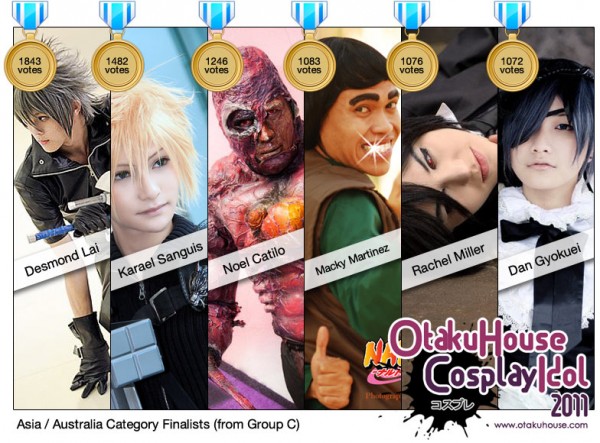 1. Desmond Lai (Final Fantasy 13 versus – Noctis Lucis Caelum Cosplay)
2. Karael Sanguis (Final Fantasy 7 – Cloud Strife Cosplay)
3. Noel Catilo (Resident Evil Extinction – Tyrant Cosplay)
4. Macky Martinez (Naruto – Maito Gai Cosplay)
5. Rachel Miller (Kuroshitsuji – Sebastian Michaelis Cosplay)
6. Dan Gyokuei (Kuroshitsuji – Ciel Phantomhive Cosplay)
Otaku House Cosplay Idol Asia Category – Top 6 from Group D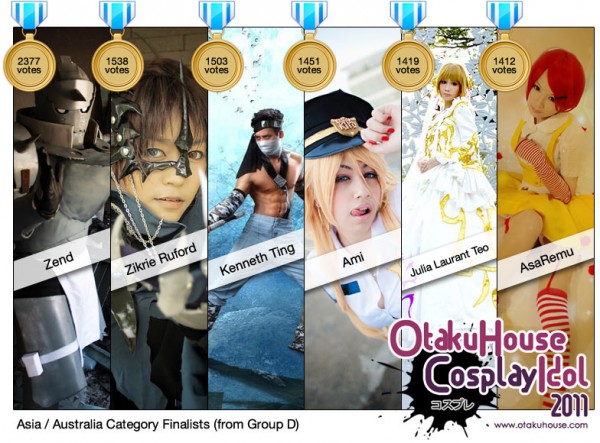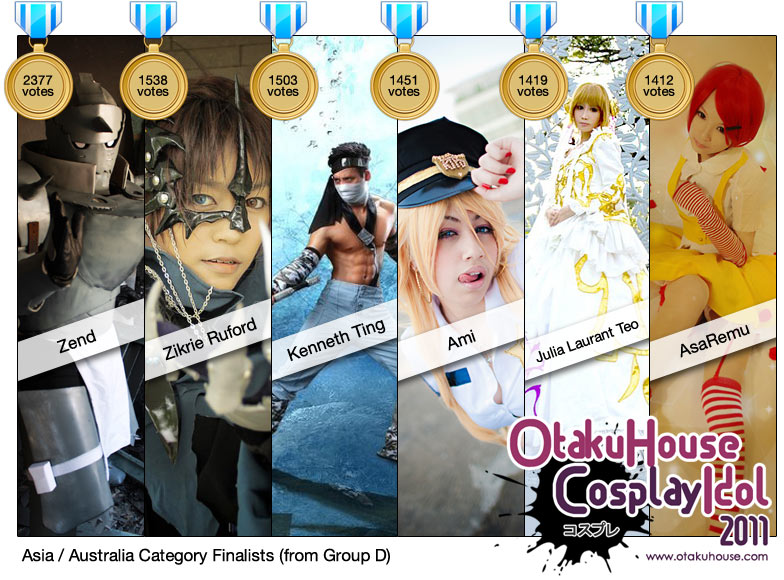 1. Zend (Full Metal Alchemist – Alphonse Elric Cosplay)
2. Zikrie Ruford (Tsubasa Chronicles – Syaoran Cosplay)
3. Kenneth Ting (Naruto – Momochi Zabuza Cosplay)
4. Ami (Panty and Stocking with Garterbelt – Panty Cosplay)
5. Julia Laurant Teo (Tsubasa Chronicles – Sakura Cosplay)
6. AsaRemu (Mcdonald's Girl Cosplay)
Otaku House Cosplay Idol Asia Category – Top 6 from Group E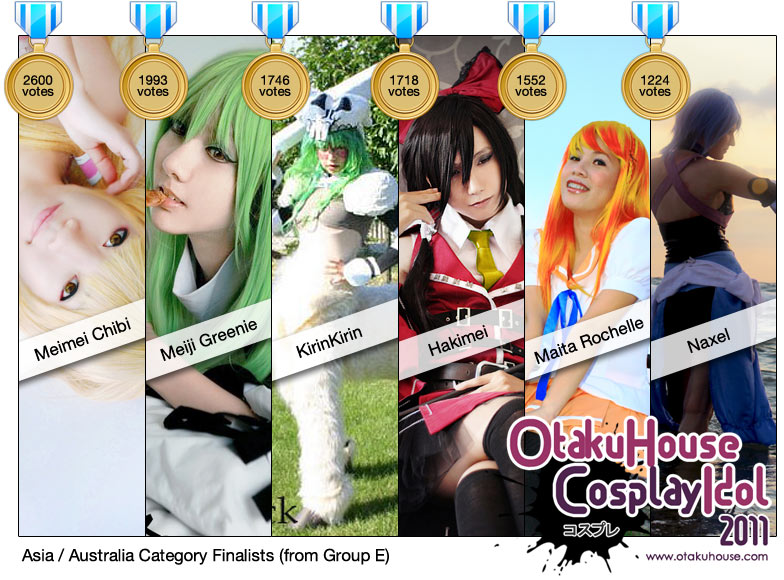 1. Meimei Chibi (Chobits – Chii Cosplay)
2. Meiji Greenie (Code Geass – C.C. Cosplay)
3. KirinKirin (Bleach – Nelliel Cosplay)
4. Hakimei (Touhou Koumajou Densetsu – Reimu Hakurei Cosplay)
5. Maita Rochelle (Mirai Suenaga Cosplay)
6. Naxel (Kingdom Hearts Birth by Sleep – Aqua Cosplay)
Otaku House Cosplay Idol Asia Category – Top 6 from Group F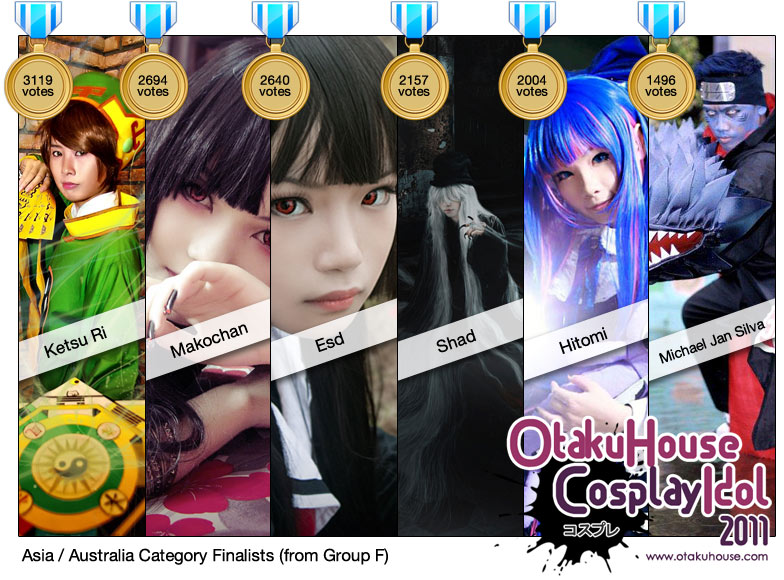 1. Ketsu Ri (Cardcaptor Sakura – Syaoran Li Cosplay)
2. Makochan (xxxHolic – Ichihara Yuuko Cosplay)
3. Esd (Jigoku Shoujo – Enma Ai Cosplay)
4. Shad (Kuroshitsuji – Undertaker Cosplay)
5. Hitomi (Panty and Stocking with Garterbelt – Stocking Cosplay)
6. Michael Jan Silva (Naruto – Hoshigaki Kisame Cosplay)

To view all contestants, or to view the Finalists' entries in the Qualifier Round, click here for the Otaku House Cosplay Idol 2011 Asia / Australia entries