Cosplayers Around the World Feature : Svetlana Quindt from Germany
3. What are some difficulties you met in your cosplaying?
My Asmodian Gladiator from Aion – Tower of Eternity was my most difficult and memorable costume. I never created an armor before, worked with wonderflex or styled a wig and it was pretty exhausting to wear, so it was a huge challenge for me. I had to research and experiment a lot for this project and my reference pictures were also pretty bad. My deadline was also pretty short. My Asmodian was my most expensive, time consuming and challenging costume and it will keep this title for many years to come. This costume helped me a lot in improving my skills and I guess, it made the thermoplastic material "Wonderflex" really popular. Yeah, I'm really proud of this project and still like this costume a lot.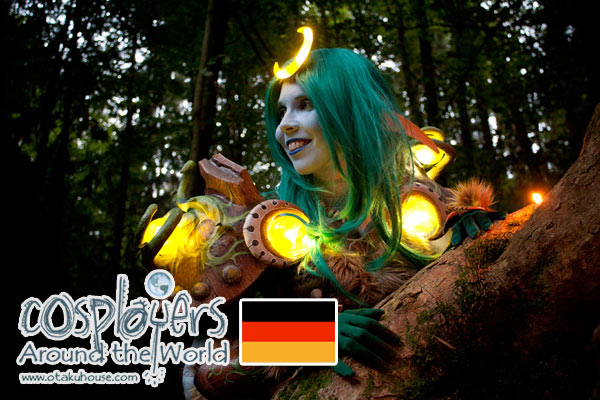 4. What is your most memorable cosplay and why?
At the moment I'm working on a Nightelf Druid Tier 9 male and female version from World of Warcraft for me and my boyfriend. But I will also keep on working on my Demon Hunter from Diablo III and start with my Wizard from the same game, too.

5. What is your next cosplay project?
One of my most memorable moments was, when I tried to paint my Asmodian breast plate. I'm pretty bad in painting and mostly need the help of my boyfriend, but this time I wanted to manage this only by myself. I guess, I tried it three or four times and every time covered my old crappy paint job with a new layer of acrylics. And with every layer the tears in my eyes became more and more until my boyfriend noticed my desperation. He comforted me immediately and promised that he will support me, if I wish. Some hours later he worked on my breast plate and I just felt in love with his paint job!



6. Tell us about some memorable experiences in your costume or prop making.
At first it's very important to know your own skills and to be sure what you are capable of and what not. Despite of this, you also have to find some courage to try something new, something you never did before. Cosplay is connected with a lot of experimenting with new techniques and materials and often you have to be very creative to find the right way to finish a piece. I guess the most important point is the community. There are people with this hobby all over the world and a lot of them are writing tutorials, have progress blogs or helping others on forum boards or via email. So, if you also want to try out whis wonderful hobby, be sure that you are never alone with your problems!

Svetlana Quindt's Cosplay Gallery
7. What are some advice you would like to give to cosplay newbies?
It's pretty important for me to support others with my work. That's the reason, why I already created many tutorials and record every of my cosplay progress. So, if you want to see how I work, want to learn something new or are just curious about my current projects, please take a look at my blog www.kamuicosplay.com .