Get ready: Library Wars is now on! (Movie Trailer)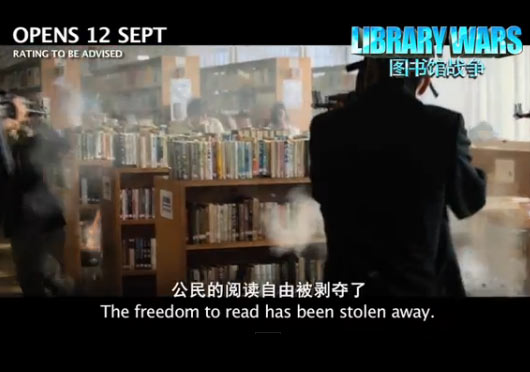 When the freedom to read have been taken away, the Library Defense Team formed to protect that freedom.
And all of us will understand why it is necessary to have a "Library Defense" team. Because we need strong highly-skilled badass librarians to protect those banned p*rnographic objectionable magazines and whack the senses out of those who cut out the sizzling magazine pages!
*Read on for Library Wars movie trailer

Synopsis of Library Wars (Toshokan Sensou)
In 2019, public anger at media excess has led to censorship of television, newspapers, the internet, books, movies, and music under the 'Media Betterment Act'. To fight the armed 'Betterment Squads' that go around destroying objectionable materials, the nation's libraries have formed their own para-military 'Library Defense'. Iku Kasahara (Nana Eikura) is a new recruit to the corps, where her instructor and squad leader is Atsushi Dojo (Junichi Okada). At first repelled by his by-the-book approach to leadership, she is gradually won over by his commitment to their battle for 'books' and 'the freedom to know.'

Otaku House will be giving away in-season movie tickets to Library Wars. You can also check out our Facebook Page (facebook.com/otakuhouse) to find out how to get 'em tickets!