Attack On Titan Movie 2 Premiere and Movie Marathon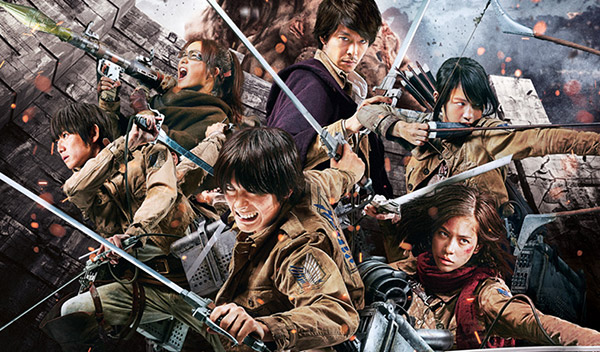 Be one of the first in Singapore to catch the Attack On Titan Movie 2! The movie opens officially on 24 Sep 2015, but for those who cannot; cannot wait, Encore Films have lined up a movie premiere and 2 movie marathons this week.
**Redeem a free pair of Attack On Titan Movie 2 premiere tickets when you shop at any of the Otaku House outlets (till 15 Sep only)!

Attack On Titan 2 Movie Premiere
Date: 16 Sep 2015 (Wed)
Time: 9pm
Location: GV Vivo City
Rating: NC16
How to get tickets: Shop at Otaku House for free tickets or buy from GV website!


Attack On Titan 2 Movie Marathon
Dates: 18 & 19 Sep 2015 (Fri & Sat)
Location: GV Plaza Singapura
Purchase tickets here
Attack On Titan 2 Movie Trailer
Attack On Titan Movie Part 2 Synopsis
Part 1 ends with a failed mission to repair the hole in the wall that has been created by the colossal giant, and the revelation that Eren could transform into a powerful Titan who retains his intellect. At the end of the movie, Eren was injured, and the mystery behind his life deepens. Resuming the story from the cliff-hanger ending of Part 1, the mystery surrounding mankind and the Titans will be revealed in Part 2. As the mystery unfolds and more complications arise, how will everything eventually resolve?
Having transformed into a Titan in front of everyone, Eren now faces suspicion and fear from all. He is held captive and tortured by his own kind, who demands to know the truth behind his ability to transform into a Titan. On the verge of receiving a bullet to his chest, Eren is saved by yet another powerful Titan—one with intellect like him. Shikishima tells Eren about his past: when he was a baby, he was used as a test subject by his own scientist father, who had injected into his body Titan DNA that triggers explosive cell divisions. Eren later reunites with his friends, and fights to plug the hole in the wall, but is obstructed by an array of forces.
Towards the end of the story, the movie sees yet another exciting twist, as the protagonists' ultimate nemesis—the colossal Titan that destroyed the wall in Part 1—appears and again threatens to wipe out what is left of mankind. Numerous deaths and injuries follow, as Eren and his friends fight for honour, freedom, and to reclaim what is rightfully theirs. Now, the final battle begins as our heroes give their all to restore peace to their homeland.