7″ Qee Transparent Bear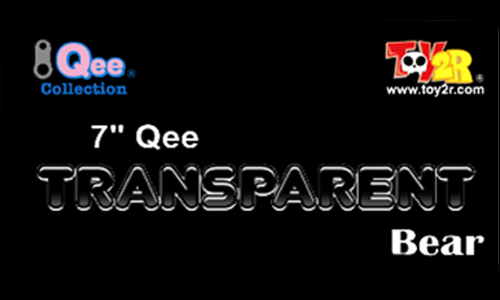 Toy2R introduces one of the newest edition to the Qee family, a 7″  transparent bear Qee.
Re-engineered to give customizers maximum freedom, this new Qee has the ability to detach its head, arms and legs from its body for easy customization. Customizers can also choose to fill up the inside of the transparent Qee with anything they want. Apart from that feature, this new transparent Qee also possesses the ability to rotate its arms 360 degrees, giving the figure a larger range of motion than before.
Toy2R has once again given artists the ability to create their personlized version of the Qee at a larger, more 'inside out' basis. Available in April, this 7″ Qee would have a SRP of HK$400, so get ready as Toy2R takes you 'inside' the world of DIY customizing.
Pre-order your very own 7″ Transparent Bear Qee now to be the first to own it.
The choice is as clear as Qee! Pre-order it today.