Howl-O-Scream Fright Night and Cosplay Competition 2009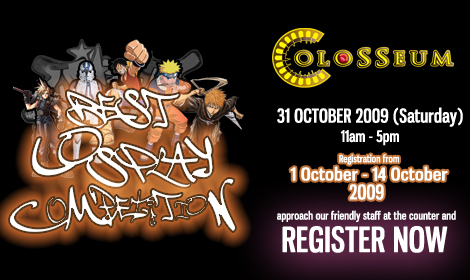 Otaku House is proud to be a sponsor for this event.
Not sure what to do on Halloween night? Hop on down to the largest gaming center Colosseum at Iluma for the cosplay competition or the Halloween party!
Registration for The Best Cosplay Competition has been extended to 23 October 2009. Winners get to walk away with air tickets and other attractive prizes.


• LIVE performance by Kumar / Shinya / Mark Bonafide
Performing infectious music will be ex-Lucify from Channel U's Superband Season 1 (now know as SHINYA). Never failing to evoke laughter, Singapore's very own Kumar will make a special appearance. Premier local R&B talent, Mark Bonafide will be bringing down the house with latest tracks from his debut album, "The Bonafide Experience".
• Best Cosplay Competition (Finals)
Witness participants as they battle it out with one another, replicating their favourite characters to win the title of Best Cosplayer.
• Femme Fatale Showcase
If looks could kill, consider us slain. Witness the evolutions of the vampire as they exist agelessly through time in the Femme Fatale Showcase.
• Halloween Lucky Draw (Deal or No Deal style)
Test your fate at our Deal or No Deal styled lucky draw where participants are offered to either walk the true path of the righteous, or stray off to temptation where exciting prizes lie in wait for the taking.
• Movie Screening
Sit back and relax the night away with the screening of old school horror shows.