Online Cosplay Competition FAQ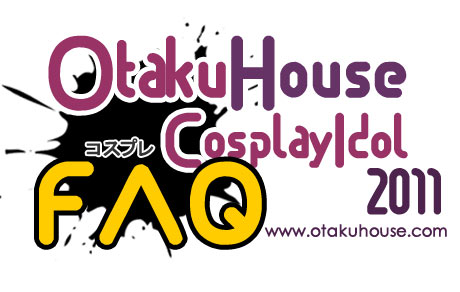 Otaku House Cosplay Idol FAQ - Finals and Showcase
Otaku House Cosplay Idol FAQ




1. How do I vote for the cosplayer I want to in the Finals?
1. Go to the Finals page of the category you want to vote for.
2. Click on the Finalists' pictures to view their entries, or click on the arrow to browse. (You can access the other Finalists from the bottom of every Finalist's page)
3. If you like a Finalist's cosplay works, click the 'like' button or 'Google +1' button at the top of that page. The counter will show the collective votes.
4. At the end of the voting round of 1 month, the Finalist with the Top 3 highest number of votes will win.



2. On Finals voting : Why can't I click on 'like' or 'Google+1'?
To click the 'like' button, you need to be logged onto your facebook account. You can only 'like' once for each finalist's page.

To click the 'Google +1' button, you need to have a Google +1 account. You can only click once on each finalist's page.



3. On Finals voting : Why doesn't the facebook 'like' numbers and Google +1 numbers tally with the counter of total votes?
Not many people know this, but the number of facebook likes that appear on an external non-facebook page is NOT based on the number of times a person click the 'like' button on that page. Yes, we all assumed that it is and it's really difficult to fathom otherwise. But the truth is that alot of factors contribute to that number. Below is a screenshot from the Facebook's lengthy reference page on what makes up the numbers :



Hurray. Don't we learn new things everyday.

Anyway, to make it fair, we introduced the main counter where it ONLY captures the 'likes' and Google +1 clicked directly on your page as a valid vote. Otherwise, it wouldn't be fair now would it? :)



4. On Finals voting : Do tweets count as a vote?
Obviously not. Else you can go trigger-happy and tweet a million times to translate to votes. However, the more you tweet, the more publicity you will be able to garner for the cosplayer, and that will translate to more people coming to vote for him/her.

Next!



5. Do I have to make my own costumes?
Ok, we have a huge debate internally on this one.

As much as we would like to enforce this, we cannot make self-made costumes a rule as it is impossible to enforce this for an online contest. An original looking costume may be store bought and then further customized, or may be commissioned, or may even be made by the cosplayer's grandmother. In fact, an original looking costume to guy A may look store bought to guy B. What if only the prop is store bought? What about that pair or Sharingan contacts or the waraji sandals? Is dyed hair better than wigs? who styled the wigs? ... and the list goes on (you get the idea)...

We also cannot require the cosplayers to open up their costume making portfolios online as the web is an uncontrolled environment. And it is unfair for them to be compelled to share their costume-making secrets to the world unless they do so, unsolicited.

We believe most voters can tell which costumes are obviously store bought, and vote with their convictions. We believe if the cosplay commnuity cannot accept store-bought costumes, a particular participant will not get votes.

There are many criteria to a great cosplay. So voting can be based all these points; like how well the cosplayer portrayed the character, costume likeness, props' details, facial expressions, personality through poses etc. We decided to leave it to the voters to vote with their personal definition of cosplay.

We have ran an opinion poll on whether the general community thinks that effort in making a costume is THE key criteria of a good cosplay, and it seems that there is no consensus on this issue. At the end of the day, this is an online cosplay contest where judges; in this case the public, cannot feel the fabric of the costumes. So cosplayers must capture the essence of the character they are cosplaying as to get votes.



6. I am a cosplayer who submitted my photo, and people I don't know have tagged themselves on my photo! What can I do to remove them?
For now, we believe most of the people who tagged themselves to your photo did it with the intention of spreading your picture to their friends to help you rally for support because they like your picture. We also do regular checks to remove and ban taggers whom we believe to be malicious in nature.

If you find someone who tags you to be doing it maliciously, or that they are trying to impersonate you; and that they are still there after 2 days that your entry has been up, we most probably missed it out. Inform us by emailing to cosplayidol[@]otakuhouse.com with the direct link to your entry, your facebook account name, the account name of the other tagger, and we'll remove them.



7. I have sent in my entry, but it's not uploaded yet. Did you receive it?
If you did not receive a 'failed mail notice' from the server, chances are we received it. If your photo is not updated after 2 rounds of update from your category after you sent in your entry, check your email for follow up emails from us. If there are no emails from us, then please send in your entry again.



8. I can't send my entry to you because the email won't go through. Do you have any other email addresses?
Please check that you have sent it to the correct email address: cosplayidol[@]otakuhouse.com. Check your photo to make sure it is under 800kb. We have tons of feedback from contestants that after minimizing their photo size, they are able to send it after all. If the email still can't go through, then send us a link to the photo.



9. Why is Mexico in South/Central America category when it is geographically in North America??? / "Mexico is not South America!! Please learn geography!!"
Oh for the 2876th time: YES WE KNOW. Believe it or not, we have a map too.

We have explained this alot of times, and since I'm tired of typing the same thing over and over, I've added this to the official FAQ : "We had an internal discussion and decided to put Mexico in South/Central America category."

Why? This is to ensure the Mexican cosplayers get a fair chance for exposure. There are currently about 7 times more contestants in the North American category than the South/Central one. We believe this decision ensures a more proportionate representation for our Mexican friends.

If you don't believe us, you can go through the albums and jab the numbers into the calculator yourself.

We have since had the enlightenment to rename this category the 'Latin America' category for the showcase. But because we are at the final stage of the contest, we will officially change the name in next year's contest!



10. "Australia is NOT in Asia, you douche bag! Give us our own category!!"
I concur. Now why don't you go bring that up to FIFA World Cup too.

We get this request pretty often (sometimes polite; sometimes violent). So here's our official FAQ answer : We did the categorizing based on how FIFA did it. I mean, who else but FIFA can claim to be an authority in segregating the global village? And for some unfathomable reason we cannot comprehend either, FIFA seems to think Australia is in Asia. Yet, nobody ever calls them 'douche bags'.

But we hear all requests and take them very seriously. While we feel 'Asia-Pacific' is a very legitimate category which most events and organizations around the world use as a group, we did consider opening up a separate category in the Otaku House Cosplay Idol 2011 for our Pacific friends; including New Zealand. But there was simply not enough participants for a separate group. So we left the Asia-Pacific category alone for 2011.

We would really love to have our Pacific friends take on the stage on their own and see them show us their stuff for Otaku House Cosplay Idol 2012 though. So to gauge interest level, we have opened a separate category for Australia/New Zealand in this year's showcase. Depending on how well the response is for this showcase category, we may just open up this new Pacific category next year. We're excited to see what Australian cosplayers are made of too!

So if you want your very own Pacific category for the next round of the contest, spread the word on the showcase!



11. What are the prizes for the contest?
The prizes are as follows :



Cosplay Idol Winner:


USD$500 worth of cosplay hamper (for each category) and the title of of Cosplay Idol 2011.
North American Winner will be featured in Cosplay Gen's magazine


1st runner up :


USD$300 worth of cosplay hamper (for each category)


2nd runner up :


USD$200 worth of cosplay hamper (for each category)


Cosplay Idol Winner:


USD$500 worth of cosplay hamper (for each category) and the title of of Cosplay Idol 2011.


1st runner up :


USD$300 worth of cosplay hamper (for each category)


2nd runner up :


USD$200 worth of cosplay hamper (for each category)



If you have any other queries not listed here, feel free to email our team at cosplayidol[@]otakuhouse.com!