Cosplay Idol Sponsors
Otaku House Cosplay Idol Sponsorship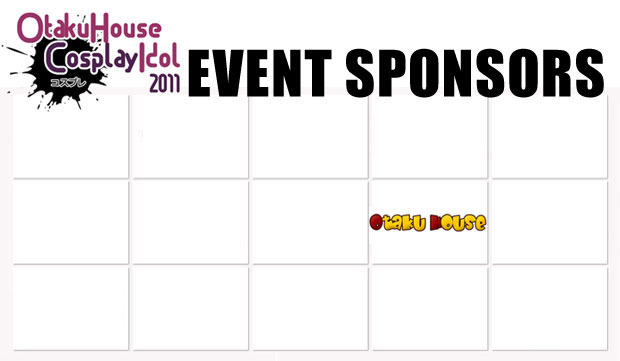 The Otaku House Cosplay Idol Contest
The Otaku House Cosplay Idol is an online cosplay competition initiated by Otaku House for avid cosplayers to showcase their cosplay photos, and to bring cosplayers from various parts of the world together. I think we can safely say that we have to an extent succeeded in this.
However, we have never expected to receive so many entries (more than 2000 and counting) and have not expected to get up to millions of hits for the Otaku House Cosplay Idol contest. To illustrate the amount of work that goes into the contest, we have upgraded our servers every month 3 times in a row and we are paying an extra full-time staff just to update information pertaining to the contest!
The sheer number of contestants also creates another problem for us, as this means many of our contestants will go home empty handed! (other than truthful critiques, comments and new friends from participating in the contest!)
Although this sounds great, we would like MORE of our contestants to actually win some prizes to bring home.
A call to sponsors
To prepare of Otaku House Cosplay Idol 2012 and to beef up our prizes for Cosplay Idol 2011, we looking for sponsors now.
Otaku House has set aside a limited budget per year to give away as prizes to our contestants and but we feel that it is not enough. So we are now looking for sponsors for the Otaku House Cosplay Idol 2012. The sponsorship will be used to increase the prizes, and for marketing to make the Otaku House Cosplay Idol competition bigger.
Do support us if you feel that your business will benefit to be in a partnership with us!
Sponsorship / Partnership Format
a) Media Partners
– Websites that have more than 20,000 uniques a month are eligible to apply for link/ banner exchange with us as our partner.
– Mentions on social media.
b) Genin Sponsors
If you have merchandise you want to sponsor to the Cosplay Idol winners, email us! We will make announcements for your publicity on facebook in exchange for your sponsorship.
c) Sidebar Sponsors
For cash sponsorship of $2000.
– We will put up a 200 x 85 banner on our sidebar.
– Your banner will never be removed, it will be permanent! (Disclaimer: At least 3 years, but we don't have plans to remove them.)
– Links and mentions on social media. (Facebook and Twitter)
– Links and mentions on cosplay idol blog posts.
email us at marketing[@]otakuhouse.com for more information.
– Madao